A Level English Literature
Why should I study A Level English Literature?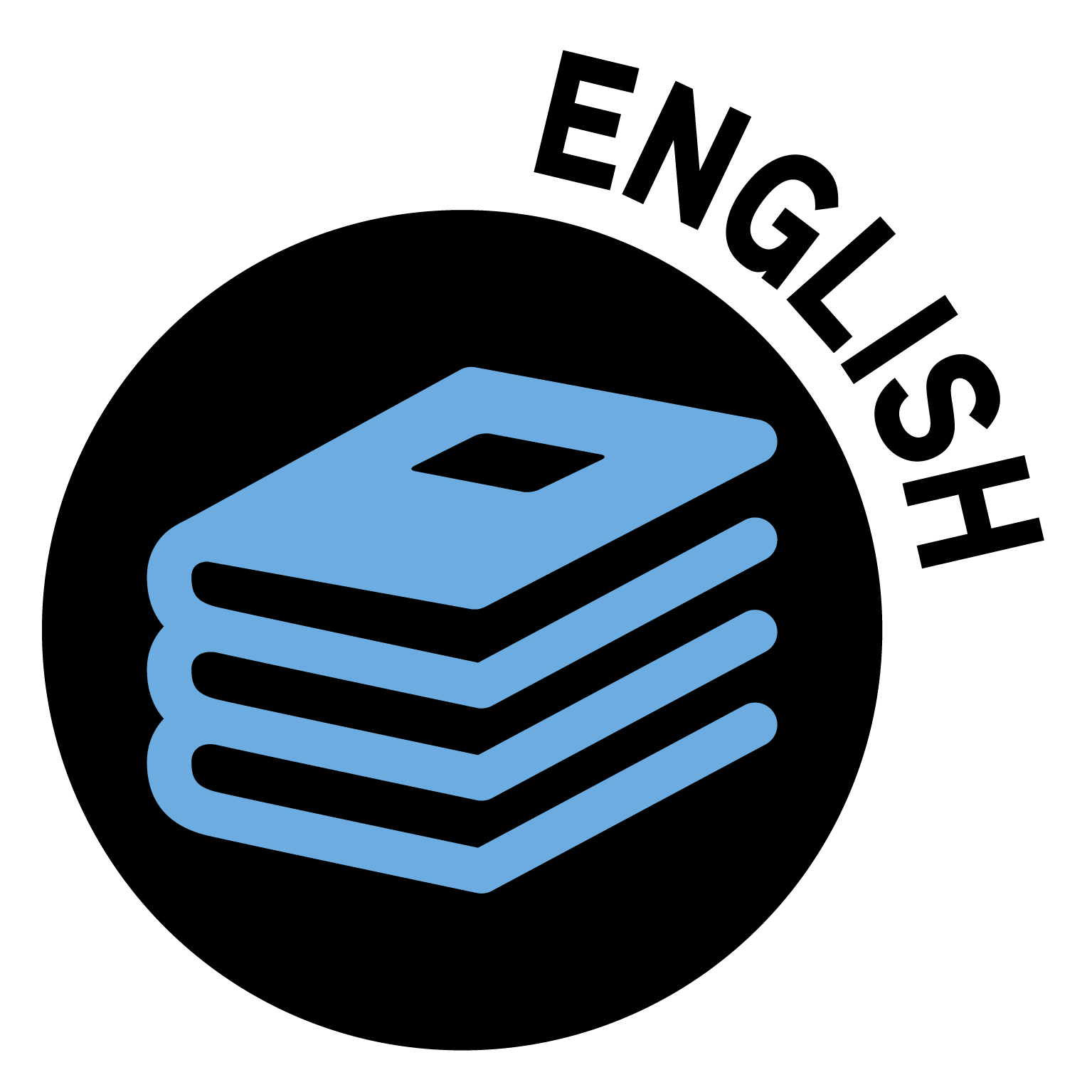 English Literature A Level builds upon the skills and knowledge acquired on the GCSE English Literature course. Studying English Literature enhances skills of communication, writing and literary knowledge.
Identifying themes and making links to other texts, theories and historical events, students will demonstrate the ability to handle complex ideas, search for patterns and interpret information in a wider context. Students will take further their understanding of the contextual concerns and influences of a text and this exploration develops empathy and understanding of how literature reflects and illustrates the world around us.
Students will develop planning and research skills whilst exploring history, culture, philosophy and even human behaviour. Students will be introduced to a variety of critical perspectives, thus allowing them to apply a more sophisticated exploration of a text and the wide-ranging interpretations it has to offer.
Studying this subject will enable you to:
Nurture, develop and hone skills of analysis and evaluation.
Develop the valuable transferable skills of sustained research and composition.
Analyse ways in which writers shape meanings.
Articulate informed, personal and creative responses.
Demonstrate understanding of the significance and influence of contexts in which specific texts were written and received.
Explore connections across texts.
Course Specification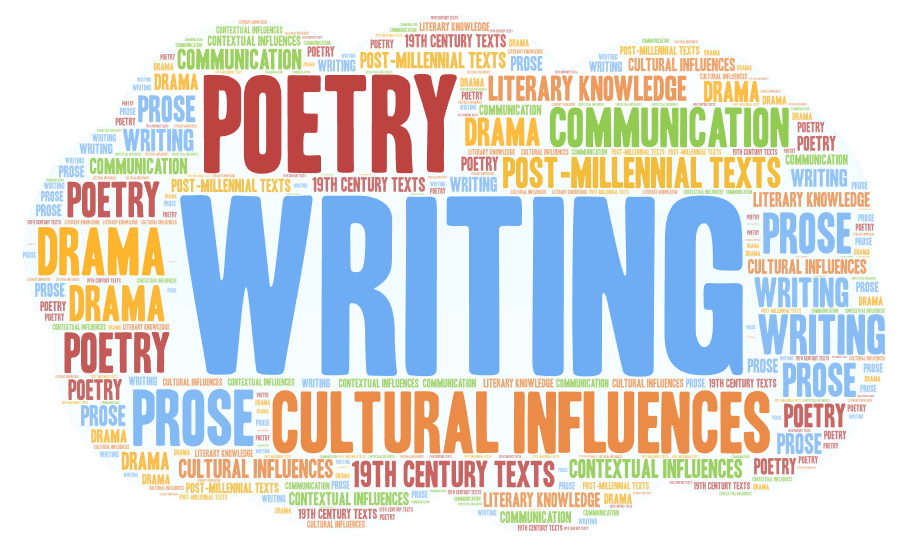 Students taking A Level English Literature are encouraged to develop critical awareness and understanding of individual works of literature, of relationships between texts and of the significance of cultural and contextual influences upon readers and writers.
Students will consider, analyse and evaluate the effect of a range of texts of different forms and from a range of genres. Texts will span a range of time periods including post-millennial texts and those from the 19th century.
Students are required to study a minimum of eight texts at A Level, including at least two examples of each of the genres of prose, poetry and drama.
Students will undertake a contextual study and read a range of texts from within the Dystopian genre. Students will be expected to explore this genre and its social, political and historical influences through their own wider reading.
Other areas of study will include comparing a play with a collection of poetry, analysing and evaluating the social, historical and political implications of both texts.
Year 12 Topics
Dystopia
An introduction to the dystopia genre
Unseen prose analysis – dystopia
Nineteen Eighty Four by George Orwell
Drama and pre-1900 poetry
An introduction to the Victorian context
Christina Rossetti – Selected Poetry
An Ideal Husband by Oscar Wilde
Year 13 Topics
Dystopia
The Handmaid's Tale by Margaret Atwood
Revision of unseen prose and Nineteen Eight Four
Drama and poetry pre-1900
Hamlet by William Shakespeare
Revision of Wilde and Rossetti and critical reading
Non-Examined Assessment
Close analysis – 1000 words
Purple Hibiscus by Chimamanda Ngozi Adichie
Comparative essay – 2000 words
A Streetcar Named Desire by Tennessee Williams and The World's Wife by Carol Ann Duffy.
Examining Board Information
Board: OCR
Course Code: H472
Click the image on the right to download the full course specification.
Widening Horizons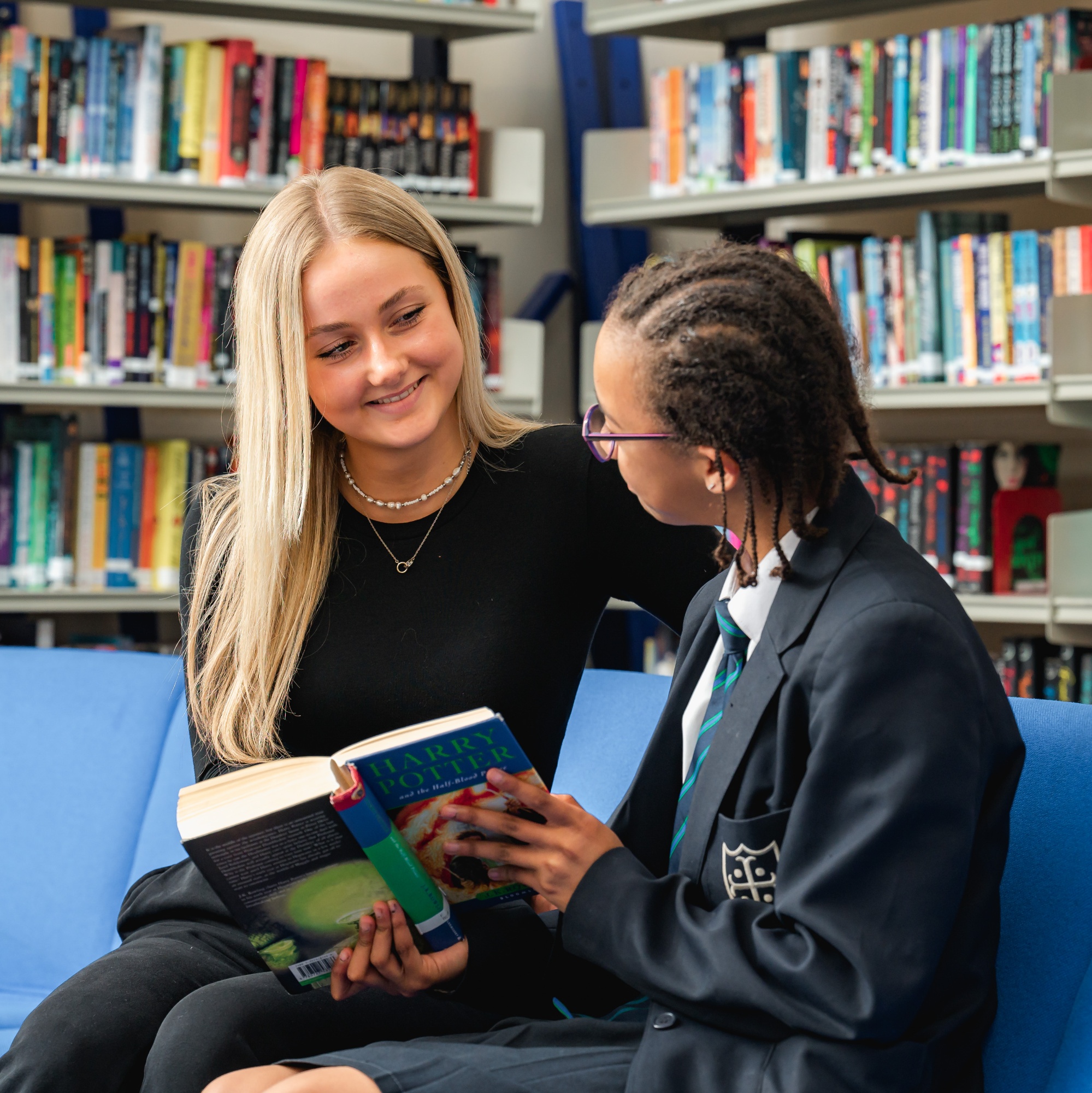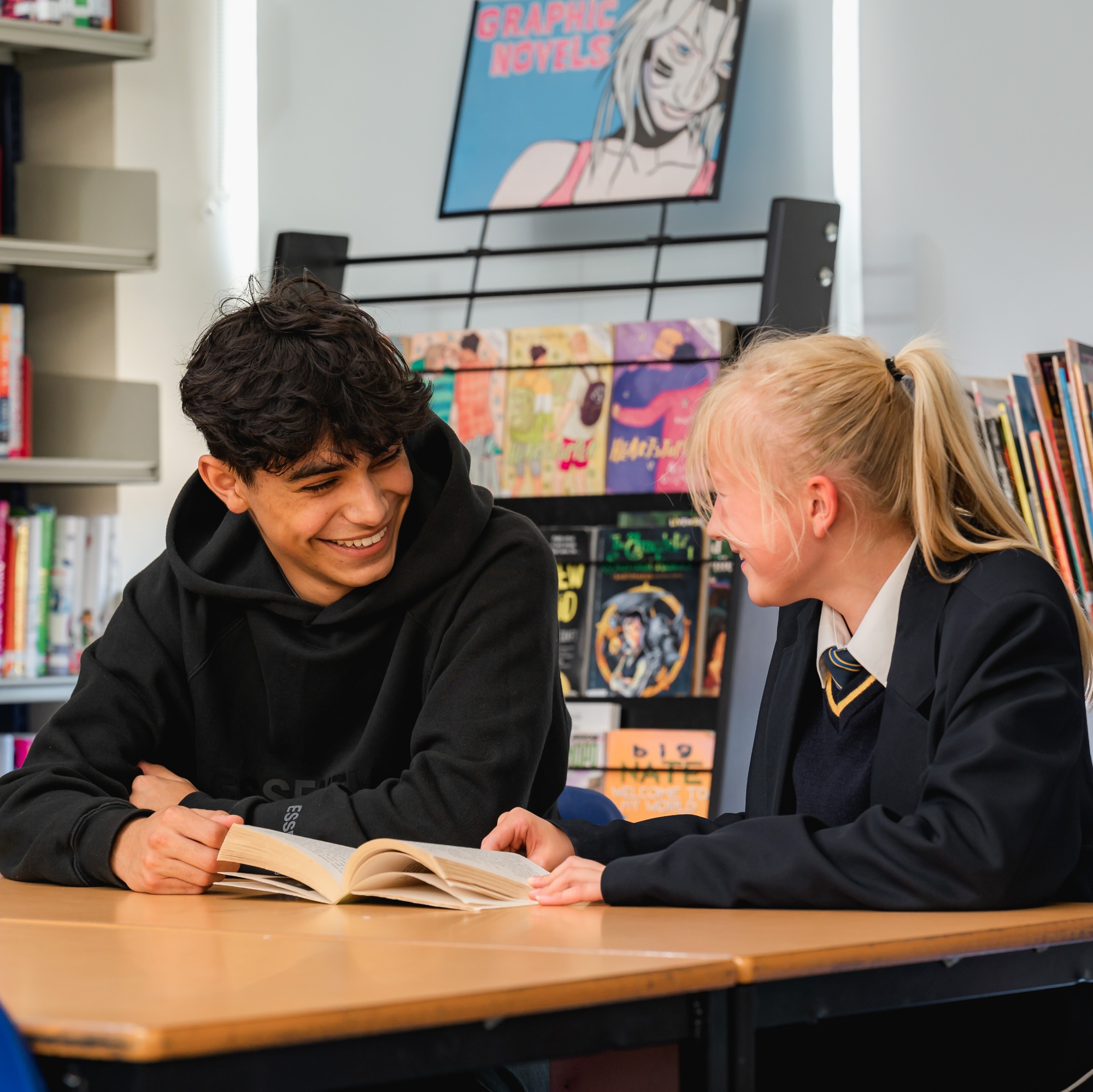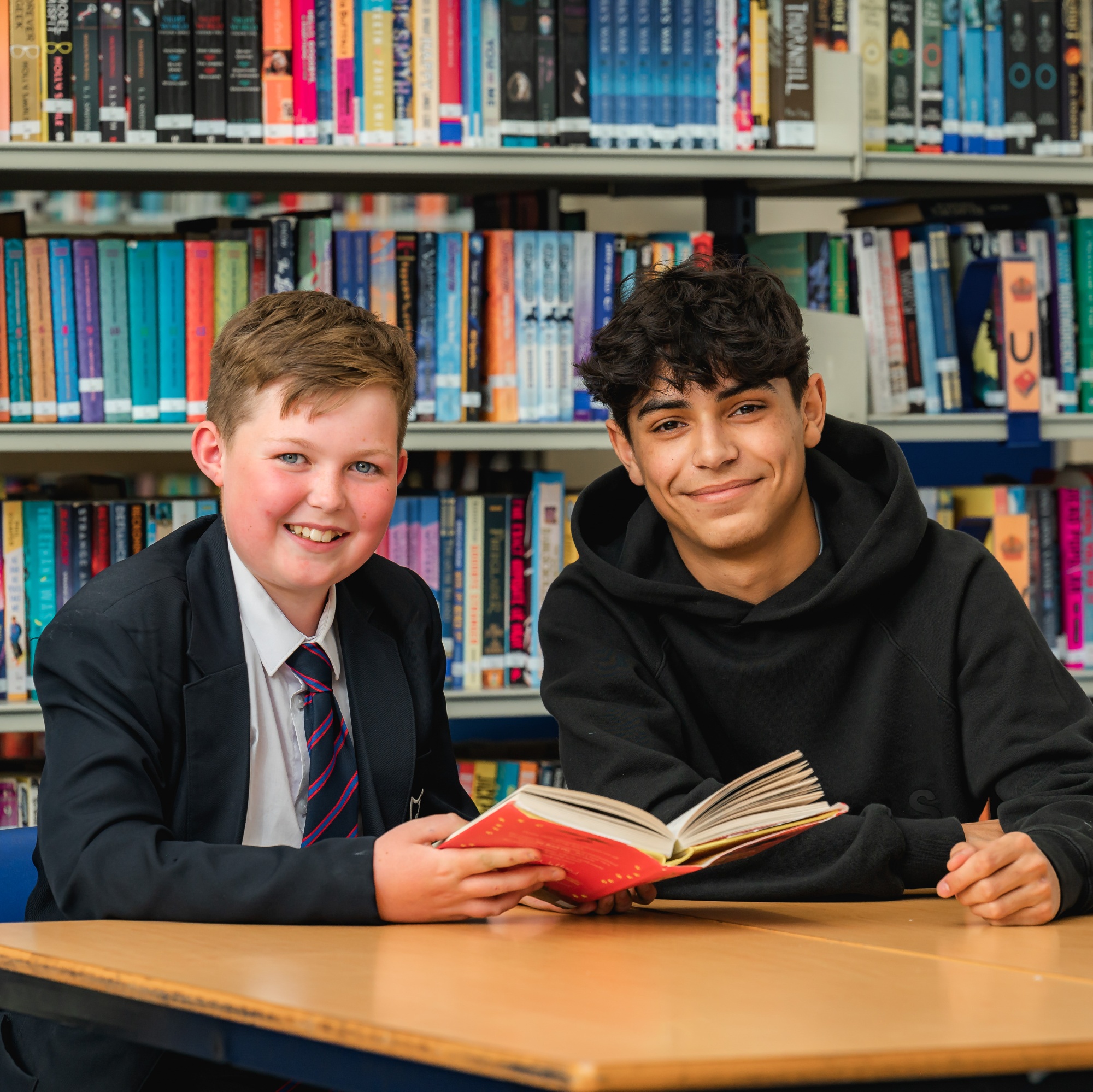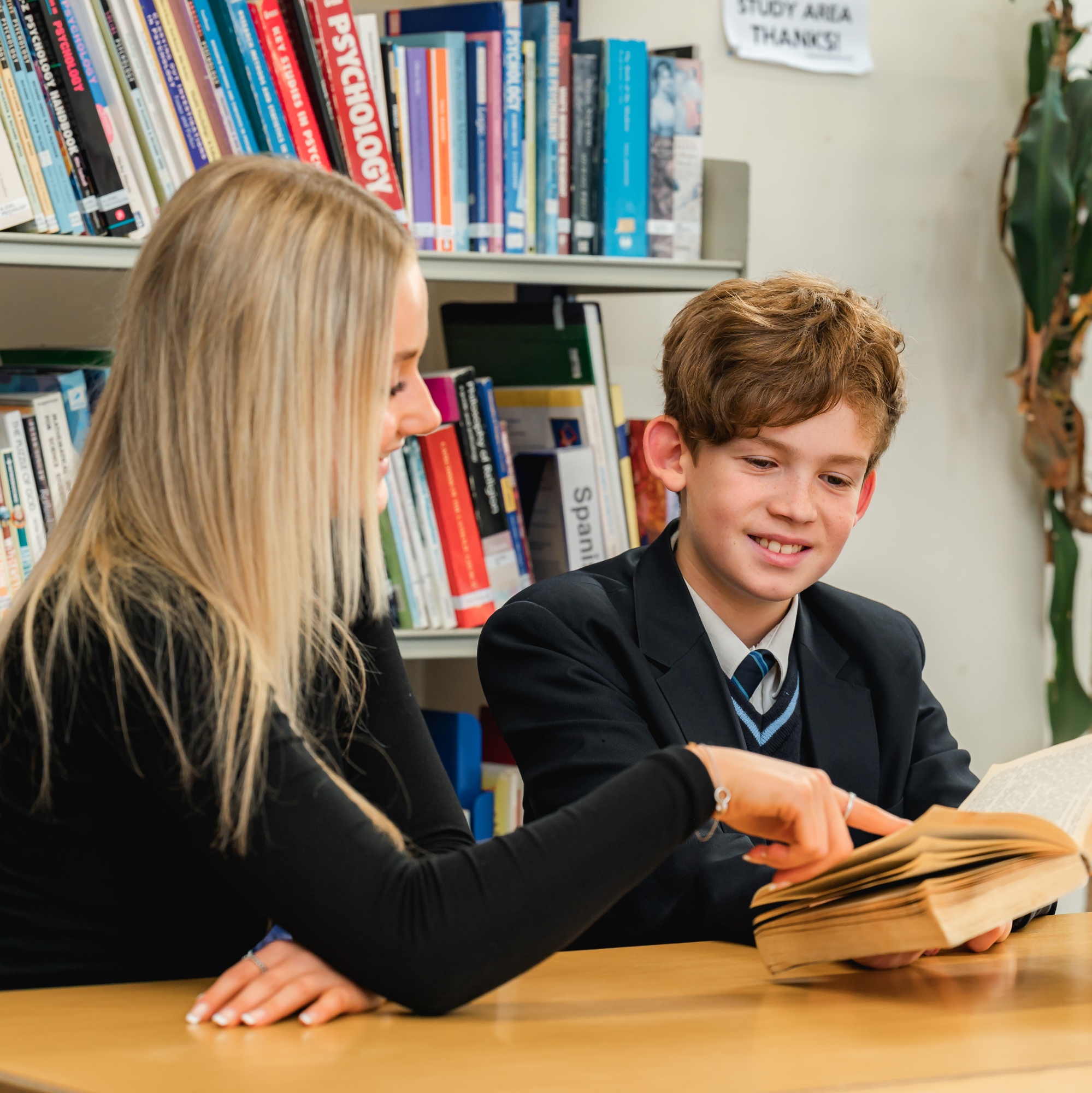 We run lecture days to develop students' knowledge of ideas within the texts they are studying and to improve their analytical skills and understanding of key concepts. In addition, where possible we take students to see live performances of the plays they study: An Ideal Husband by Oscar Wilde and Hamlet by William Shakespeare.
We recommend that students read an eclectic range of texts in order to develop their cultural capital and to broaden their knowledge of different genres. The transition materials we provide signpost a wide range of writers, as well as critical reading, podcasts and lectures, which students can read to extend their learning.
Paired Reading
We offer the opportunity for A Level students to gain volunteering experience through our Paired Reading Scheme. During these sessions, A Level students read with and mentor students from Key Stage 3 on a weekly basis to help build their confidence in reading. This gives the students valuable citizenship hours and enables them develop key skills towards their Advance award, including listening, communication and building resilience. Here's what one of our Year 12 students has to say about the scheme:
"Paired reading allows lower school students to really flourish and, to not only become stronger readers, but also more confident young children. Paired reading also gives the Sixth Formers a sense of responsibility - it is very heart-warming to know you are helping a child expand their reading skills."
Amelia C, Year 12 Student
Reading List
The following books are examples of other texts you may wish to read to give you more knowledge about the dystopian genre.
H G Wells: The Time Machine
Aldous Huxley: Brave New World
Ray Bradbury: Fahrenheit 451
Anthony Burgess: A Clockwork Orange
J G Ballard: The Drowned World
Doris Lessing: Memoirs of a Survivor
P.D. James: The Children of Men
Cormac McCarthy: The Road

A wide range of literature to read and enjoy - both before and during the A Level - will be included in the summer Transition Booklet for you to explore.
Copies of the novels on the wider reading list are available in the Learning Resources Centre.
Assessment Format
Paper 1: Drama and Poetry Pre-1900
Written examination (2 hrs 30mins). This paper is worth 40% of the overall marks for this qualification.
Paper 2: Comparative and Contextual Study
Written examination (2 hrs 30mins). This paper is worth 40% of the overall marks for this qualification.
Coursework: Literature Post-1900
Non-examined assessment. The coursework is worth 20% of the overall marks for this qualification.
Course Entry Requirements
This course requires a Grade 6 or above in GCSE English Language plus a Grade 6 or above in GCSE English Literature.
An A level English literature student should:
Have a keen interest in reading a range of texts from different genres and periods
Be committed to reading outside of lessons
Make contributions to discussions about texts and the ideas raised
Be hardworking and manage their time effectively
Be able to write essays and reflect on their work and make improvements
Employability Skills
Employability Skills are essential skills, personal qualities and values that will enable you to thrive in any workplace. Along with good technical understanding and subject knowledge, employers often outline a set of skills that they want from an employee.
This course will help you to develop the following employability skills:
Articulate your ideas in a logical and clear way.
Being able to select information to support your case and to piece these ideas together in a coherent piece of writing.
Broaden your vocabulary, appreciate the effective use of English by others and to gather and consolidate ideas from a variety of sources.
Develop the ability to understand others and express yourself for maximum effect in all situations.
Higher thinking skills such as analysis and evaluation.
Present your thoughts clearly, authoritatively and concisely.
Next Steps
An A Level in English Literature offers students the opportunity to access a range of Higher Education courses at university and study for Degrees in English, Law, Business Administration and others.
English Literature also provides an effective pathway into career opportunities in Business, the Media, Human Resources, Journalism, Publishing, and Teaching.
10 Possible Careers
Author
Broadcasting
Education
Film
Journalism
Law
Marketing
Publishing
Recruitment
Social Media Manager
Student Profile: Davina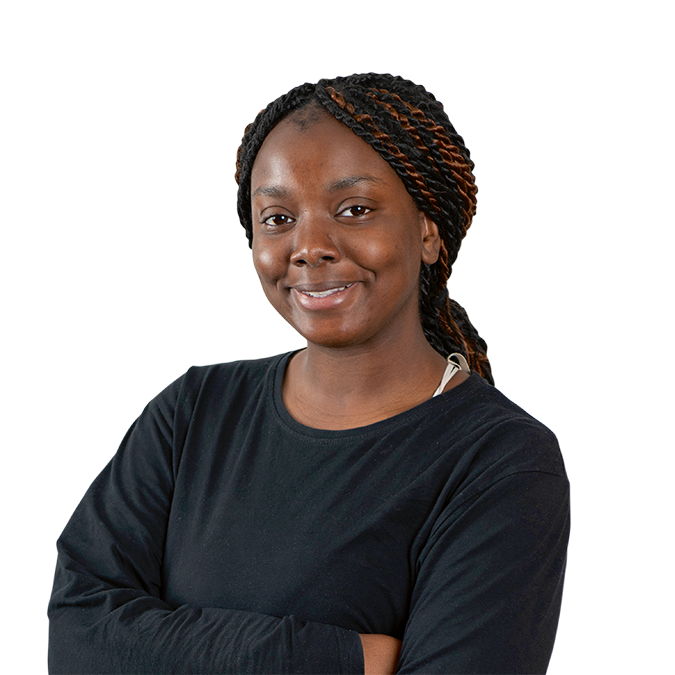 Davina's subjects
A Level English Literature
A Level History
A Level Sociology
The interactive lessons have really improved my communication skills which is important as I am considering a career in journalism or event planning. Teachers here have really helped me develop my skills in this area too. Despite coming from another school, I have settled in quickly; the RAG Week was a great bonding exercise.