College trip to New York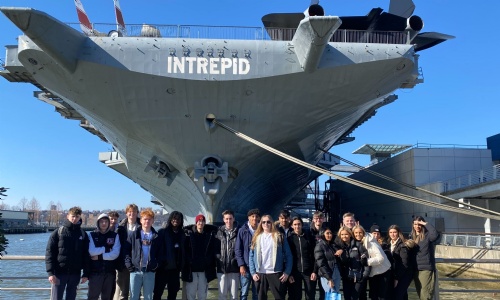 On Sunday 5th February 2023, we took a group of Year 12 & 13 Accounting, Business and Economics students on an action-packed four-night trip to New York to widen their horizons and bring their subjects to life beyond the classroom.
During the trip, students enjoyed a walking tour of New York's financial district delivered by a local tour guide who took them to the city's financial landmarks, including the New York Stock Exchange, the Charging Bull (sometimes referred to as the Bull of Wall Street) and Federal Reserve - home to the biggest gold store of gold in the world) amongst others. Students also benefited from a behind the scenes tour of Radio City with a look into its financial history and how the venue has adapted to changing financial environments over the years. A tour of Madison Square Gardens gave students insight into one of the most iconic multi-event indoor arenas and how it accommodates both the New York Knicks (NBA basketball) and the New York Rangers (NHL ice hockey), as well as many other headlining pop and rock concerts.
The itinerary also included a visit to the 911 Memorial & Museum where students learnt about the history of the 9/11 attacks at the site where the Twin Towers once stood. The museum provided a sobering encounter with the story of the attacks, their aftermath and the people who experienced these catastrophic events. They also explored the Memorial and its twin reflecting pools which are nearly an acre in size and feature the largest man-made waterfalls in North America. This was followed by an access all areas tour of the new Yankee Stadium, home to the world-renowned New York Yankees baseball team.
One of the trip highlights included a visit to the Intrepid Sea, Air & Space Museum aboard the expansive aircraft carrier Intrepid, which also housed a space exhibition where students could get up close to the first space shuttle, the Enterprise. Beside the dock stood an impressive aircraft collection, including a retired British Airways Concord. Students enjoyed a boat trip to Liberty Island to see the Statue of Liberty, recognised as a universal symbol of freedom and democracy. This was followed by a stop at Ellis Island where students learnt about its history as the destination where more than 12 million immigrants were welcomed to its shores between 1855-1890.
No trip to New York would be complete without a visit to the city's iconic landmarks including Times Square, Grand Central Station, 5th Avenue, Central Park, and panoramic views of the most iconic skyline in the world from Top of the Rock – the summit of the Rockefeller Center. This was wrapped up with a toe-tapping visit to the hit Broadway musical of Disney's Aladdin.
Year 12 A level Economics student, Noah R, gives an account of the trip below.
New York, New York.
New York. The most famous, spectacular city of dazzling wonder documented in every film, TV show and song imagined. A city where I was told anyone could be anything. New York has always been of particular interest to me, not because of the buildings or shopping but what it stands for, freedom and an American dream.
We woke up at a ridiculously early time to travel to Heathrow Terminal 2. I love a good holiday, so I was as excitable as a child on Christmas morning. However, upon our arrival at Heathrow, we discovered that our plane had been cancelled. Thankfully, it was fine in the end as they moved us to a flight two hours later, and it was quite an adventure wandering around Heathrow Airport trying to figure out where we needed to be.
We landed at Newark Liberty International Airport at around midday, after maybe the most terrifying security I have ever been through where I was interrogated on what felt like all aspects of my life. At the same time, I looked out the window of that airport to see maybe the most spectacular, impressive and mesmerising skyline ever, New York City!
After dropping off our bags at the hotel, we took a walk to Times Square. My first impression was one of sheer amazement. You look up to see the skyscrapers - these great monuments of steal, brick and glass all laid out in a perfect pattern of streets and blocks. I just found myself lost in a city of hope and dreams and rush of excitement hit me. As night drew in, a colourful rainbow of the bright lights of Times Square were flashing before me from every angle as I stood and absorbed the scene. We wondered around as people danced, tried to sell knock off cheap knick-knacks to us and took photos around us. Never have I been so transfixed by something not produced by sports or nature. Despite this, we were all very tired and jet-lagged after a never-ending day, so we decided to head back to the hotel for a good night's sleep.
Waking up extremely early the next day, we had a fascinating day. We hopped on the Subway, our main source of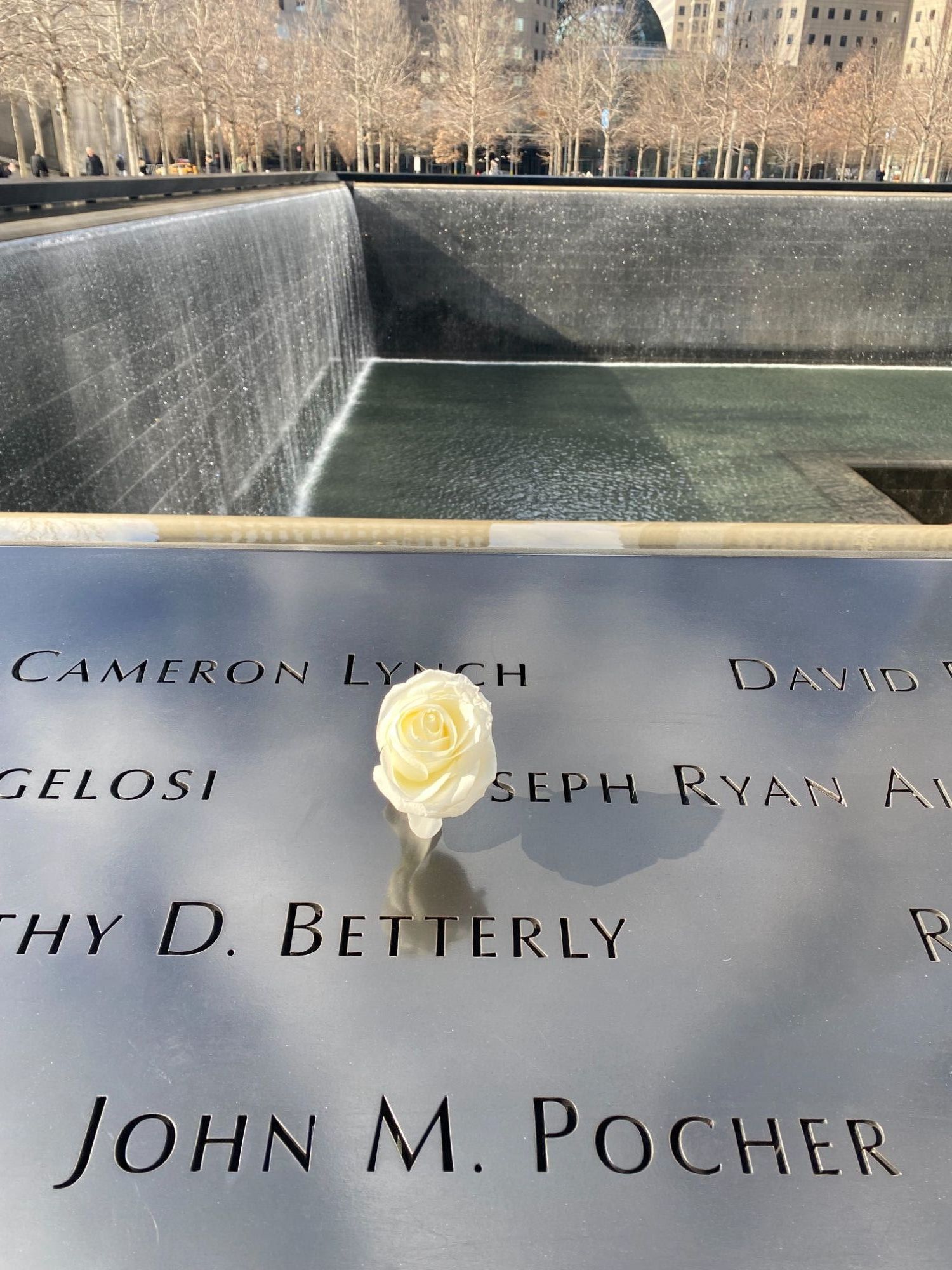 transport throughout the trip, which I must admit I really enjoyed as it added to the adventure. Our first activity was really sobering as we visited the World Trade Center. More to the point the 9/11 Memorial and Museum. Never have I ever felt such conflicting emotions. Of course, you feel the shock and horror after hearing recordings of the desperate calls and messages by passengers, cabin crew and first responders, but what stabs at your heart strings and makes you wonder is whether human kindness exists after seeing and hearing such pain and devastation. However, as you progress, and see pictures of the American flag being raised over the site and hearing Bush's speech at Ground Zero where he proclaimed, "I can hear you! The rest of world hears you…and the people who knocked these building down will hear all of us soon", you couldn't help feeling a sense of pride and patriotism. I grew up in a family that was enamoured by the American dream and what America stood for. At that moment, even I felt a sense of pride for what America was able to accomplish. It's an experience I will never forget and urge everyone to go.
Afterwards, we hopped onto the Subway to Brooklyn to visit the new Yankee Stadium, home to the world-renowned New York Yankees baseball team. I am a
massive sports fan and can't get enough of sports - the action, passion and, if you're like me who supports Spurs, the battering, crushing disappointment. I loved walking around the stadium with our amazing tour guides looking at this state-of-the-art structure, absorbing the history and being able to see the famous player Babe Ruth's actual bat. We had the opportunity to visit the shop afterwards and I would like to thank Mrs Westley who bought me a shirt on her own credit card after I discovered it's a cashless stadium and didn't have a means to pay. She knew how much I love sports and what it would mean to me to have the shirt. Of course, I paid her back, but it was such a lovely act, and I am really grateful for that.
Night dawned and we found ourselves several stories in the air on top of the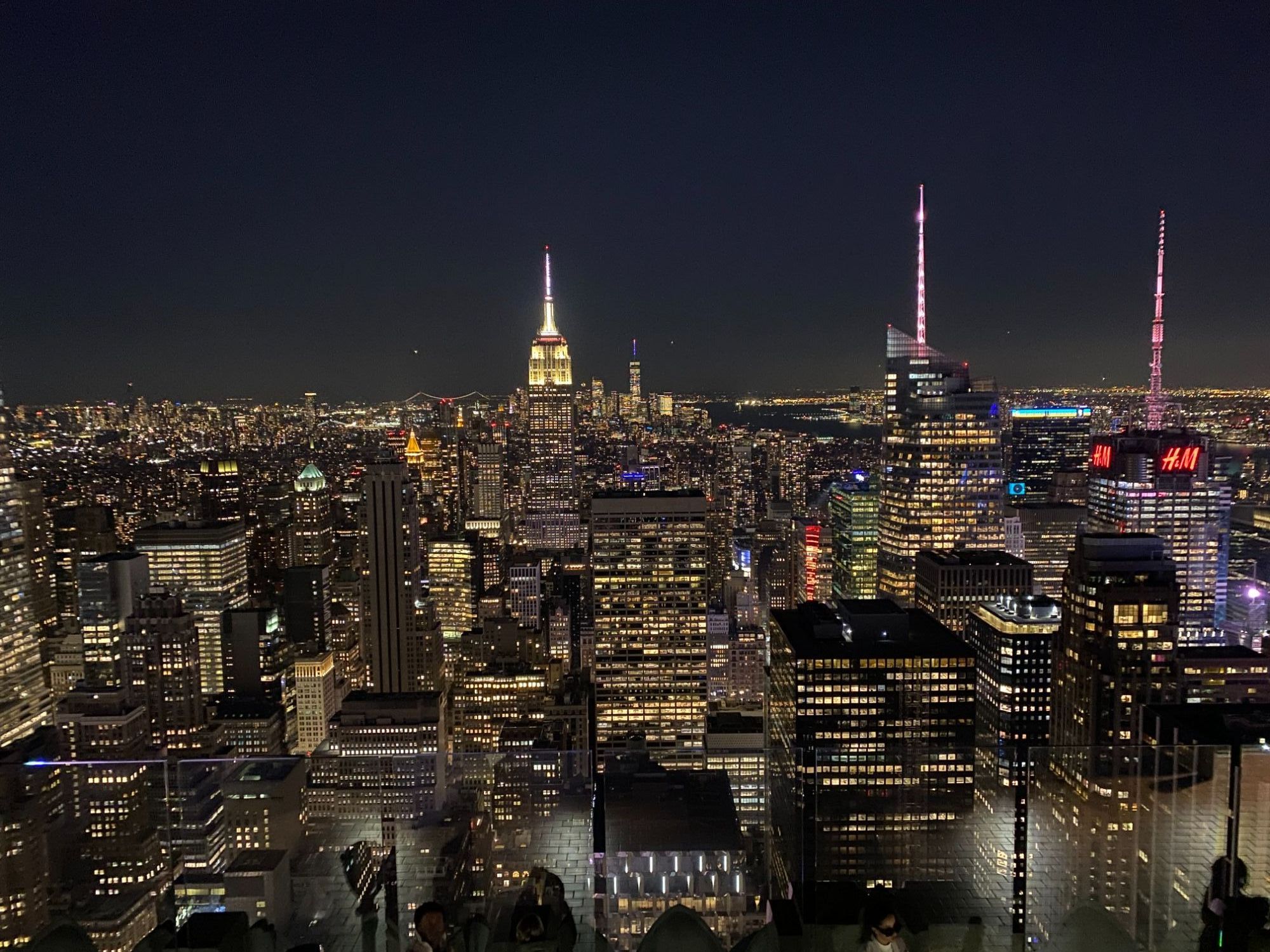 famous Rockefeller Center. To get to the top, we had to enter a lift with a clear roof while in motion. It was almost like being transported by Willy Wonka to the top of New York. We saw all the flashing bright lights of the skyscrapers of New York City. It made almost like a film as you were bombarded by landmarks - on one side we could see the iconic Empire State Building, something you imagine in your dreams, and on the other side Central Park - the most famous park in the world. It's simply the best view you could get!
The next day, we got an incredibly cold boat out to the world-famous icon of liberty and freedom, the Statue of Liberty. We spent a good 45 minutes on Liberty Island, where it was surprisingly mild in temperature, overlooking the shore of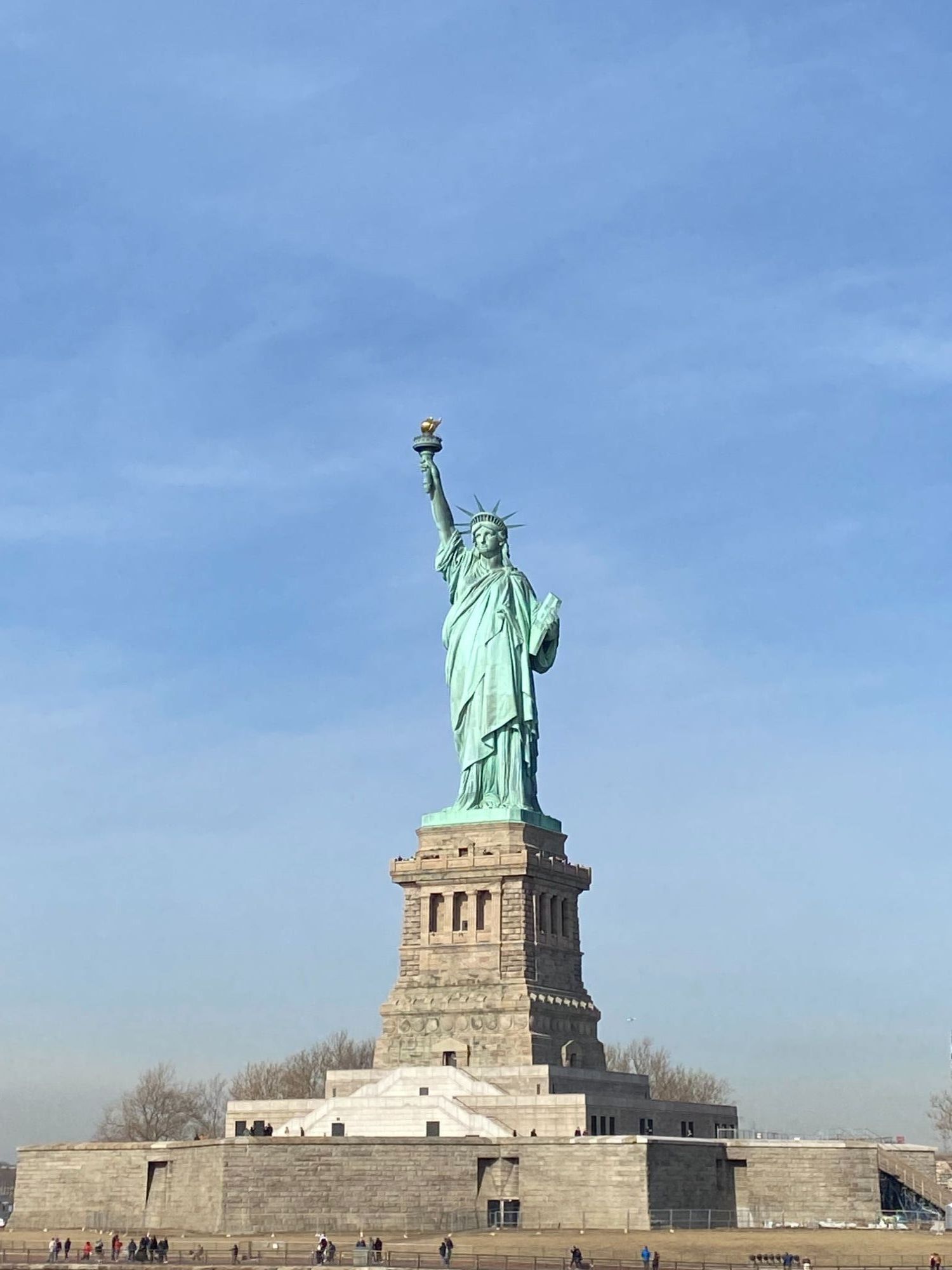 Lower Manhattan. Still now I think about the words from the New Colossus poem inscribed into a plaque mounted on the pedestal of the statue, a symbol of what America has become:
Give me your tired, your poor,
Your huddled masses yearning to breathe free,
The wretched refuse of your teeming shore.
Send these, the homeless, tempest-tossed to me,
I lift my lamp beside the golden door!
After boarding the boat again, we also got to see Ellis Island, the island where many people from different cultures and ethnicities landed to find a new home, a new dream. It wasn't grand - in fact it was like a school hall where you would sit for assembly, not something that would make 12 million people citizens. It's amazing to think that most of modern America in all its power and glory was created in these crowded, congested small halls.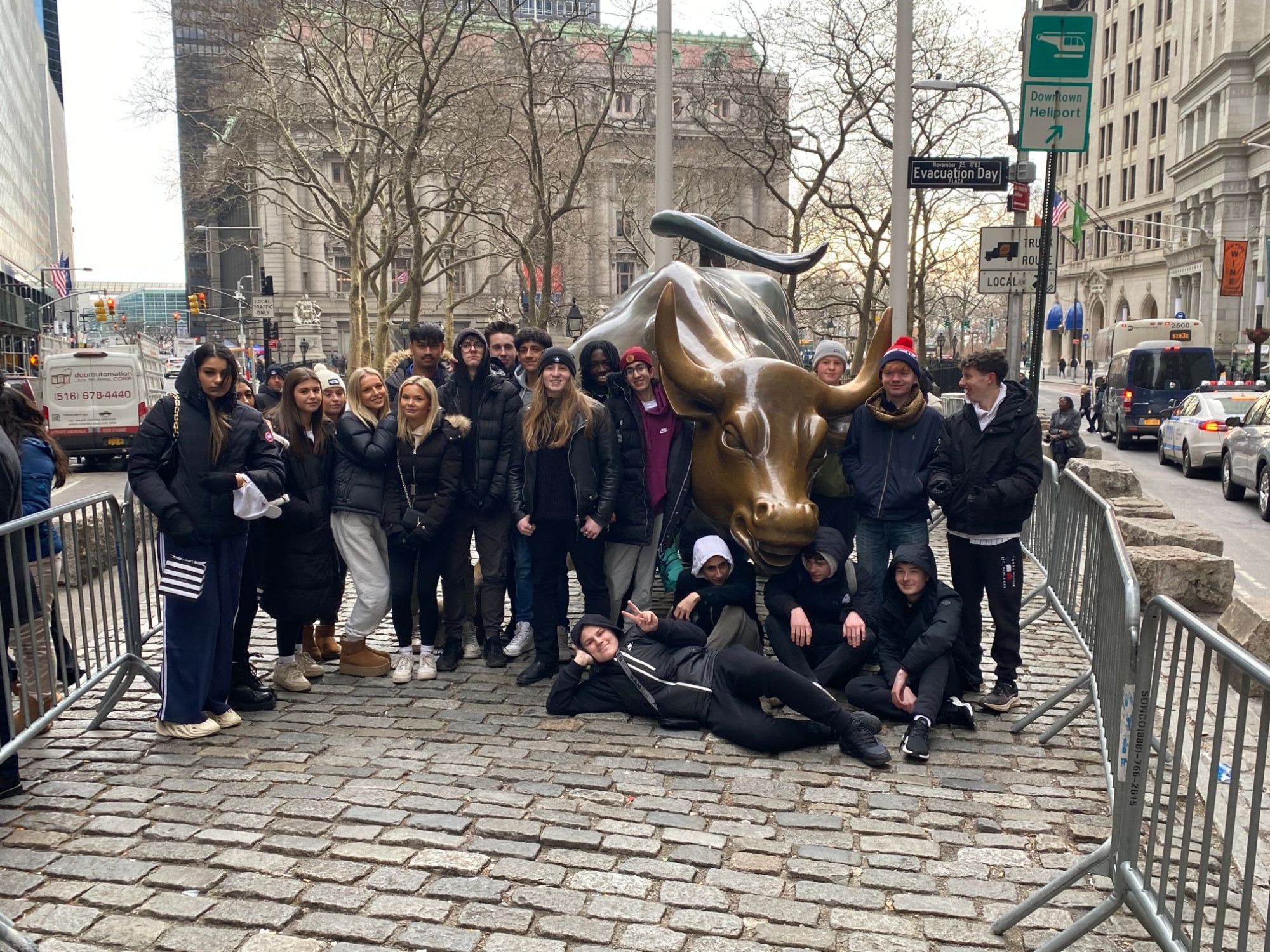 After some independence around the city, we then enjoyed an organised a walking trip around Wall Street. Having visited the World Trade Center the previous day, it was interesting to walk around the financial district. Our tour guide was an 80-year-old New Yorker named Gordon, who was fascinated by the revolution war.
After a good night's sleep, our next day started with a surprising change to the itinerary, and we went aboard the US aircraft carrier called USS Intrepid to the Intrepid Sea, Air & Space Museum. The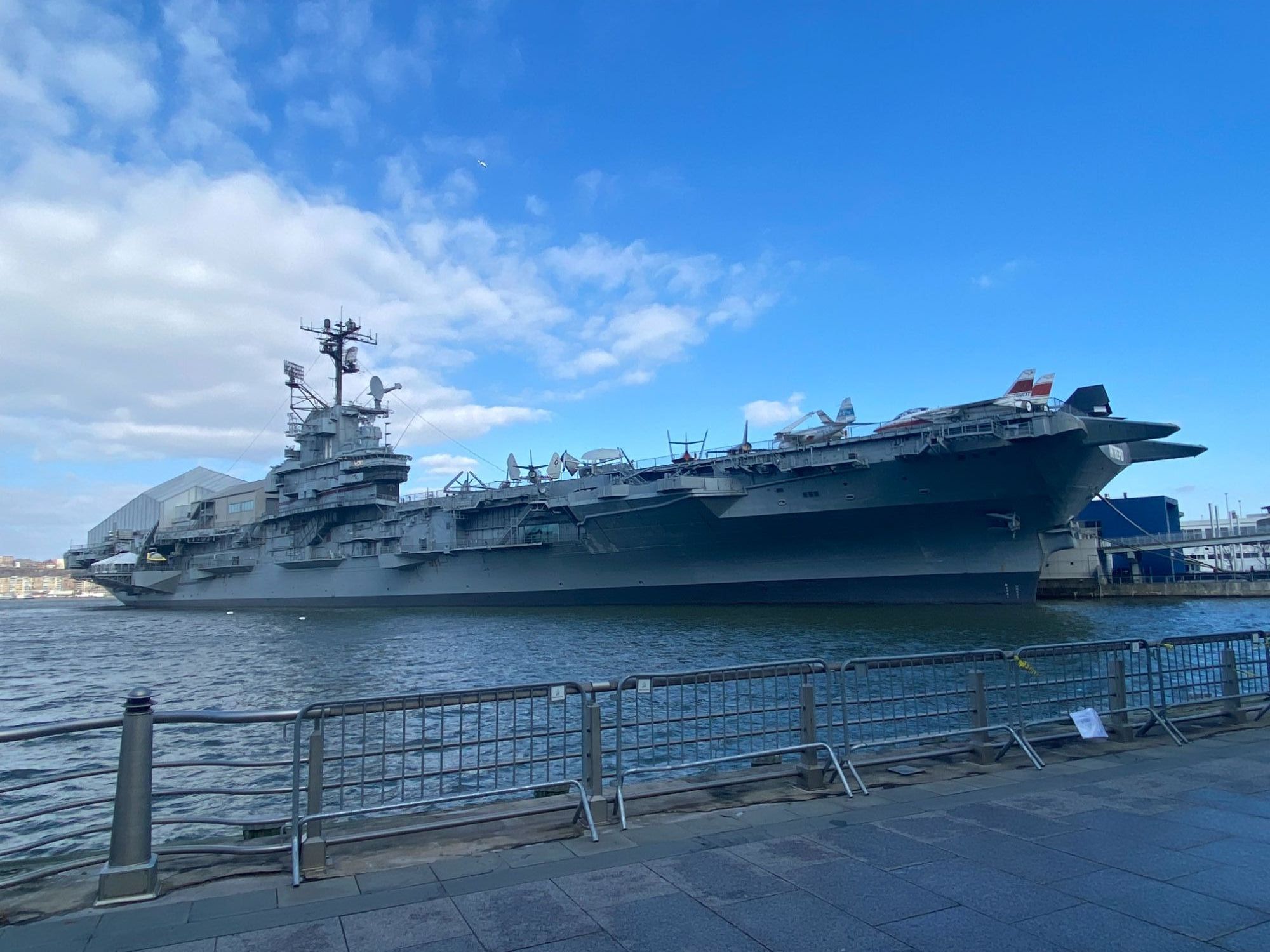 legendary aircraft carrier served stour in Korea and Vietnam and had ties to NASA housing a whole space exhibition and the opportunity to get up close to the first space shuttle, the Enterprise. The most thrilling part for me was just on the dock beside the ship where Concord laid. The retired British Airways plane famous for its ability to fly from London to New York in only 3 and a half hours. I found the plane fascinating, particularly after an eight-hour flight and learning why the plane was no longer in operation.

Fatigued and a bit drained, we walked a 15-minute walk to the Subway. After we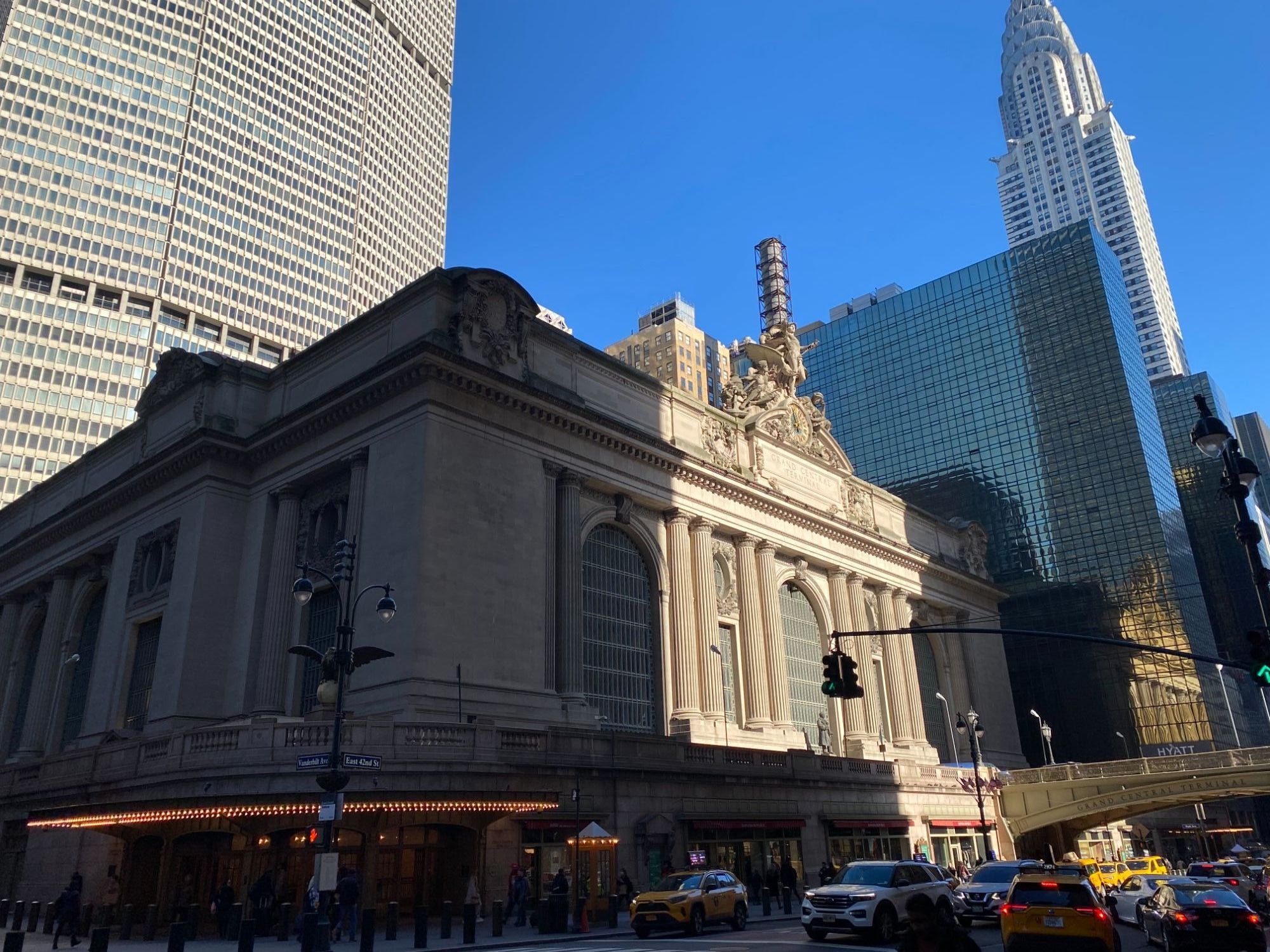 emerged from the station, I walked out to the beautiful architecture and gold-plated design of the world-renowned Grand Central Station. A station covered with gold and splendour that sparkles and stands as a symbol and testament to American wealth and pioneering transport. As you walk between the glistening halls of gold paved like wonder, you realise, I am here in New York City!

From there, we walked down the famous 5th Avenue parallel to Times Square and, after some brief stops at sports shops, we reached Central Park, which was probably my favourite part the whole trip. Just something about the setting the lovely mild temperature. The overlapping bridges that blended perfectly with the nature of the trees and pathway making a cascading picture of life. When in New York, I expected it to be like a film: thrilling, exciting, mesmerising and dramatic. In Central Park, however, it's as if it's just you there surrounded not just by a city but by life, and you might as well enjoy every second of it. It changed me just watching the surroundings and taking in the beauty of Central Park.
Night drew in and, after an incredible meal at Bubba Gump Shrimp Co, made famous in the film Forest Gump, we went to Broadway to see the musical Aladdin. I had seen the film of course and the show in London's West End when I was younger, but I got a lot more out of it this time and thoroughly enjoyed it, particularly the magic carpet ride. There were no cables, and it genuinely looked like a couple in love travelling the world going through the stars together. It was magical in only a way that America or Disney can achieve. It made me dream, as someone who loves to travel, and I was transfixed in thinking what my magic ride would look like. Only in New York!

The final day soon arrived and in came what I can only describe as a hidden gem. Somewhere that reminds me of Frank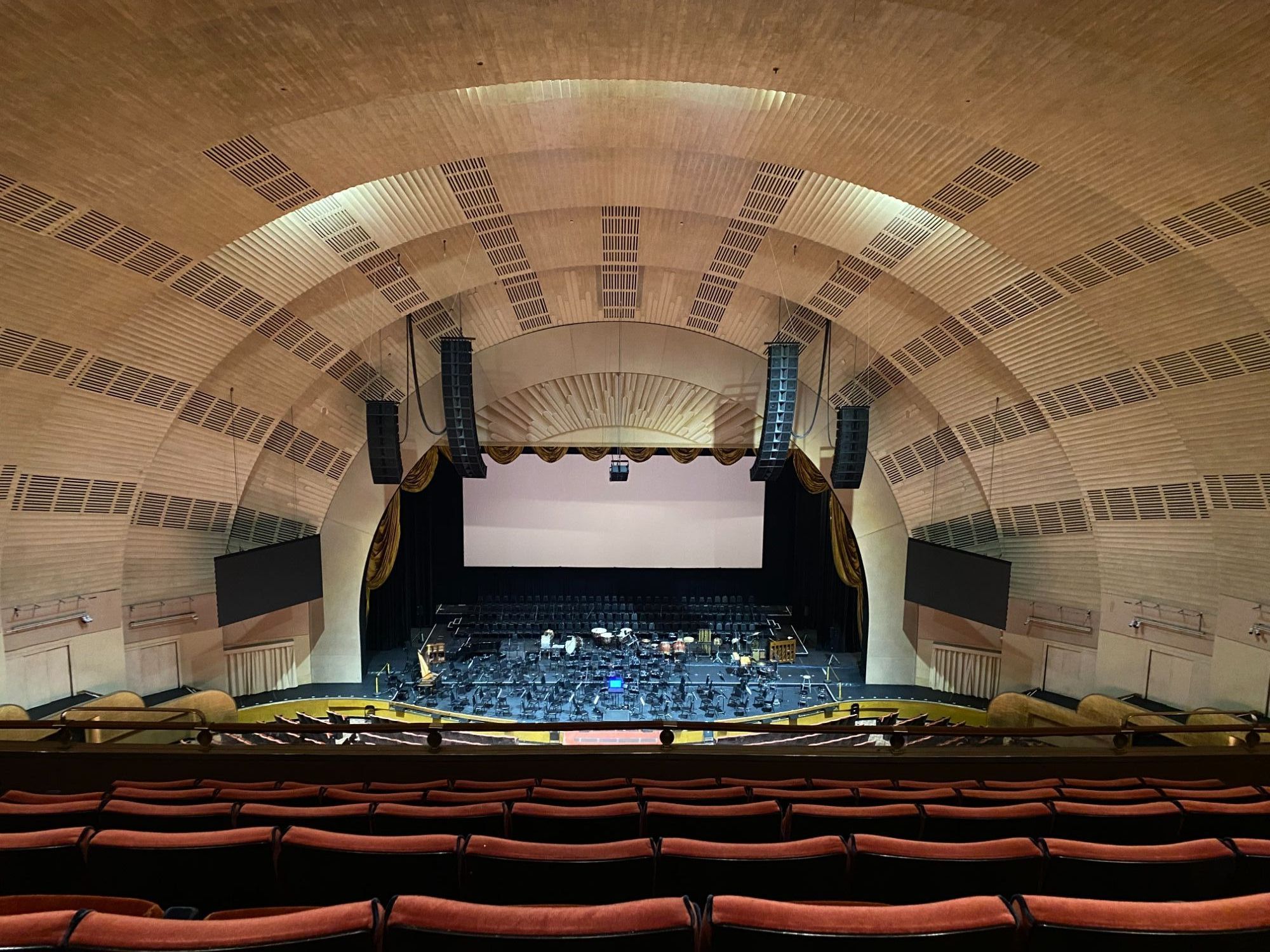 Sinatra and classic New York jazz, swing, class and prohibition. Here we were at Radio City Music Hall within the Rockefeller Center, which I can only compare to Hollywood Studios at Disney. You enter a grand hall decorated with red carpet and gold-plated railing, filled with popcorn stands, sweet bags and a large amount of very expensive pop at every stall you look at. The waft of popcorn in the air makes you feel as if you're about to not just watch a film but be in one! Then through a background tour, we got to go to the control room full of machinery and engineering about the size of a normal cinema that is used to move the stage for the audience to see. We also met a Radio City Rockette who was part of the Rockettes dance company - the most famous performance and stage spectacular at Radio City. I can't rate this attraction highly enough and encourage you to visit this marvellous, awe-inspiring place where words can hardly do it justice.
We also visited Maddison Square Gardens - the home of some the most historic events in the world in sports to politics. Fraser versus Lee to "Happy Birthday Mr President". It was interesting as we walked around the arena where dreams are made.
Later that evening it was sadly time to leave New York, and we flew back home landing early morning the next day at Heathrow. It's difficult to summarise New York. It's the city of all cities. The place of dreams. Where legends have graced the scene from everywhere across the world. It's hard to find words to describe the flamboyant success and nature of New York. It's everything that America should be and is diverse, loud, unapologetic, beautiful, bright, successful and friendly. It's American and, as a result, a reflection of the world. I loved every bit of it and am already booking a ticket to revisit!

I would also like to say a special thank you to Mr Mills and Mrs Westley for accompanying us on this amazing trip and for putting so much time and effort in arranging such an incredible itinerary too.
Noah R, Year 12 Student