College Advent Calendar of Recognition ​​​​​​​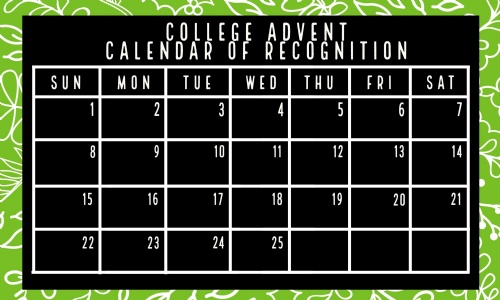 The College Team are excited to launch the College Advent Calendar of Recognition this December.
With Christmas coming up, the College Team would like to recognise and reward the good deeds and hard work of students in the College. Over the next two weeks, teachers and Year 12 and 13 students can nominate College students to be recognised for their good deeds each day. Students who display our values of courage, commitment and kindness and act as role models for Warlingham. Every day, we will put the nominations in a hat and two winners will be drawn who will be rewarded with a little sweet treat. All those students nominated who aren't drawn out on that day will be entered into another prize draw in January for a special prize.
See below the worthy winners recognised by their peers so far:
| | | |
| --- | --- | --- |
| Samuel P | Year 12 | For the kindness he displayed in helping a Year 7 who fell over and then helping him to his lesson afterwards. |
| William B and Lucia G | Year 13 | For being incredible Head Prefects and making a real difference. |
| Safiya L | Year 12 | For being a great friend and helping me settle into the Sixth Form in my first term. |
| Levi Gilby | Year 13 | For demonstrating massive courage and commitment over the last few weeks. |
| Eesha P | Year 12 | For being incredibly kind and friendly and always a joy to be around. |
| Natasha S | Year 13 | For being incredibly kind and friendly and always a joy to be around. |
| Shane B | Year 12 | For diligent participation and contribution to the new writing club and producing creative stories whilst keeping on top of his other school work. |
| Dilenne R | Year 13 | For her perseverance towards her work and others' work and kindness to everyone during our Design & Technology Lessons. |
| Ellie O | Year 12 | For her commitment and good work in Maths this term. |
| Matthew M | Year 13 | For his volunteering work in Drama. |
| Tom B | Year 12 | For offering to help students painting their colour wheels in a Year 7 Art class. Tom has shown tremendous amounts of commitment, willingness, kindness and courage for working with a group of Key Stage 3 students! |
| Paige C | Year 13 | For giving up her time to help work with the Year 12 Drama students on their scripted performance, as they had a member of their group missing. |
| Luca C | Year 12 | For his hard work and professional approach to recording his own song at ACM Metropolis Studios. |
| Alex M | Year 13 | For spending her time helping another student with their personal statement. |
| Milly C | Year 12 | For being a fantastic ambassador for the course and College at Open Evening. |
| Lucia G | Year 13 | For sharing her books as part of the Maths deep dive. |
| Nura H | Year 12 | For volunteering to help with the Year 10 French class. She was an amazing help - French Language Assistant standard! |
| Leonard A | Year 13 | For helping to run, coach and participate in Badminton Club. He has been a brilliant support to the club since the start of Year 12. |
| Joey R | Year 12 | For leading a music recording session of his own with his peer group. |
| Joe F | Year 13 | For helping make the College look so wonderfully festive. |