Movember Fundraising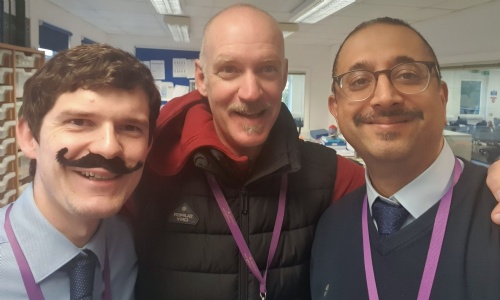 Throughout the month of November, a group of male staff members grew a moustache to raise money for men's health charity, Movember.
Movember fundraisers are a global community making a difference in men's mental health and suicide prevention, prostate cancer and testicular cancer. Donations could help save a father, a brother, a son, a friend, a partner, a man's life. The team of teachers included Mr Chotai, Mr Randall, Mr George, Mr Mills, Mr Hatton and Mr Valentine who all set themselves the challenge to grow a moustache for November. There were some rules: No beards or goatees. Must start clean shaven, and grow for the whole month!
We are proud of the team who all embraced the attributes of the Warlingham Learner:
Kindness – raising awareness and the profile of men's health issues.
Courage – the potential for ridicule!
Commitment – growing a moustache is not as easy as it looks!
The results can be seen in the photos below.
On Friday 25th November, we held 'Mo Day'. Our Sixth Form College Students sold moustaches to staff and students for 50p a moustache who were then invited to 'tache up' for the day. The event was a fun way of raising awareness for a worthwhile cause and we are delighted to have fundraised for Movember. A big thank you to everyone who took part and donated.