Duke of Edinburgh Bronze Award Achievements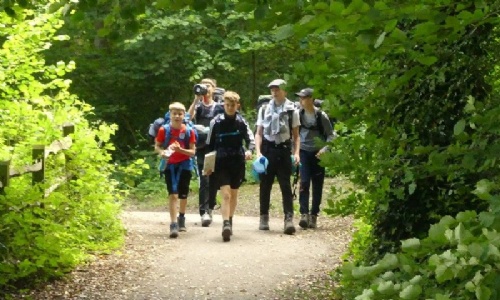 Last year, 56 Year 9 students took part in Bronze Duke of Edinburgh Award at Warlingham. As part of the Award, students complete four sections: Skills, Volunteering, Physical, and Expedition.
The students completed a training expedition weekend around the Warlingham/Tandridge area and did their final expedition weekend in the Ashdown Forest. Over the course of the weekends, participants were able to practise their map-reading skills, as well as teamwork and resilience.
Congratulations to Billy H who has completed his Bronze DofE Award and explains below what he did for each section.
I completed my Duke of Edinburgh Bronze Award last year when I was in Year 9. For the volunteering section of the award, I helped at my local Beaver group. I used to go there when I was younger, so I knew the lady in charge. For my skill, I would cook dinner once a week for the rest of my family which helped me to improve my cooking skills and make dinner when we did the real expedition. Even though the walking on the expedition was extremely difficult physically, I had a great time socialising and laughing with friends and even people who I didn't speak to before. I would recommend DofE to anyone considering it as it is an opportunity to have a laugh with your friends but also to achieve something that can help you in future life.

Billy H, Year 10 Student
Students in Year 9 and 10 have had an assembly to introduce the DofE Award and letters will be coming out shortly for those interested in taking part in the Award this year. We can't wait for more adventures this school year!
Megan Johnson
DofE & Enrichment Coordinator