Bordeaux French Exchange Trip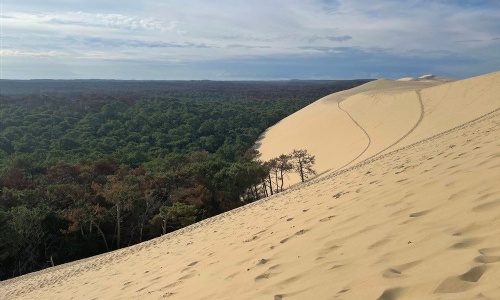 We are delighted we could run the French Exchange trip to Bordeaux this year with a group of Year 9 and Year 10 language students. The trip was led by Mademoiselle Duvigneau and she shares her experience below.
It was my pleasure to lead the return of the Bordeaux French Exchange Trip this year with Mrs Scott accompanying. This adventurous trip truly tests the courage, commitment and kindness of the pupils who go on it as the students go from speaking French for five hours a fortnight to full immersion and they are given the opportunity to make a friend for life in their exchange partner.
We arrived in Bordeaux on Saturday 24thSeptember. At the airport, the students were paired with their partners and then got to spend the weekend with them. the French students wanted to practice their English as much as our students wanted to show off their French! Over the weekend with their families, I heard stories of the students going out into Bordeaux city centre to explore, one went to a virtual reality centre, there were birthday party celebrations and rides in mini carriages!

On Monday, we embarked on our first group trip together to Dune du Pilat, outside Bordeaux.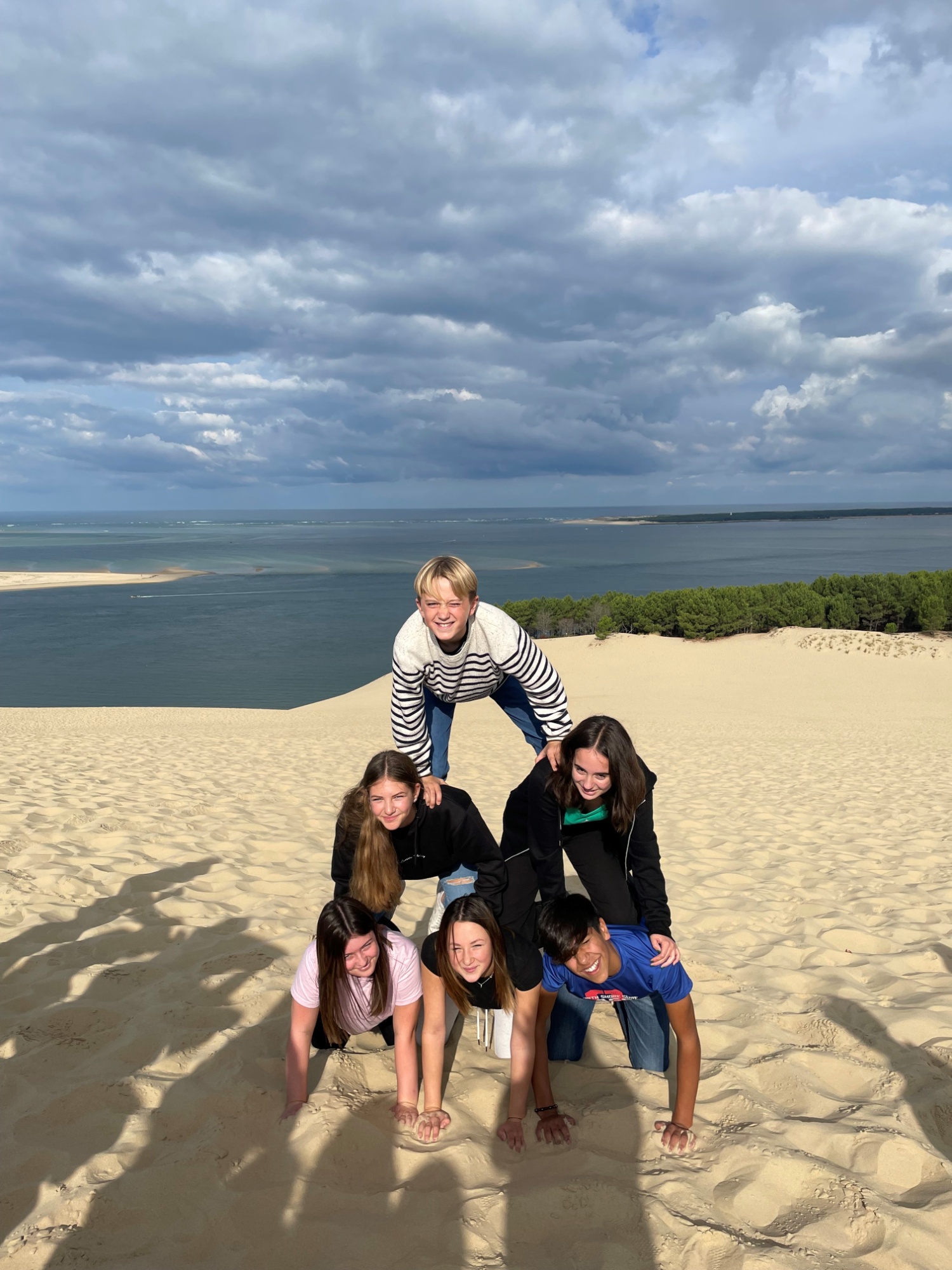 On Monday, we went to the Dune du Pilat, which is the biggest sand dune in Europe. We had a lot of fun playing in the sand although it was definitely a hard walk up the Dune. We could see for miles and miles at the top with lovely views of the sea and nature. We also explored the seaside resort town of Arcachon, which was very pretty and got to know a lot of the French students very well. We all enjoyed the day and can guarantee we all slept well that night

Alex F, Year 9
On Tuesday, our Warlingham travellers went to school with their partners and sat in some lessons from English to History to PE - all in French. I can't wait to see how much their French will have improved when we get back to school. In the afternoon, we went on a trip to visit the historic town of Saint-Emilion, which is a UNESCO World Heritage Site, honoured for its cultural landscape and historical vineyards.
Saint-Emilion was a very beautiful town. There were wine shops everywhere and lots of little shops, in one of them I got a really lovely ice cream that was made from organic milk from a farm. The Cloître de Cordeliers, where we had a tour and did some tasting (soft drinks!), was very big and it's incredible that the sparkling wine had been made inside a church. I would go again to both

Matilda o, Year 9
School finishes early on a Wednesday in France so our students got to spend more time with their homestay families. Phoebe H told me that she went to a dance class with her partner and showed me the routine that they had learned and recorded. I was jealous! She also said that they went to play badminton as well. Lots of fun!
On Thursday, I had everything crossed that it wouldn't rain because we were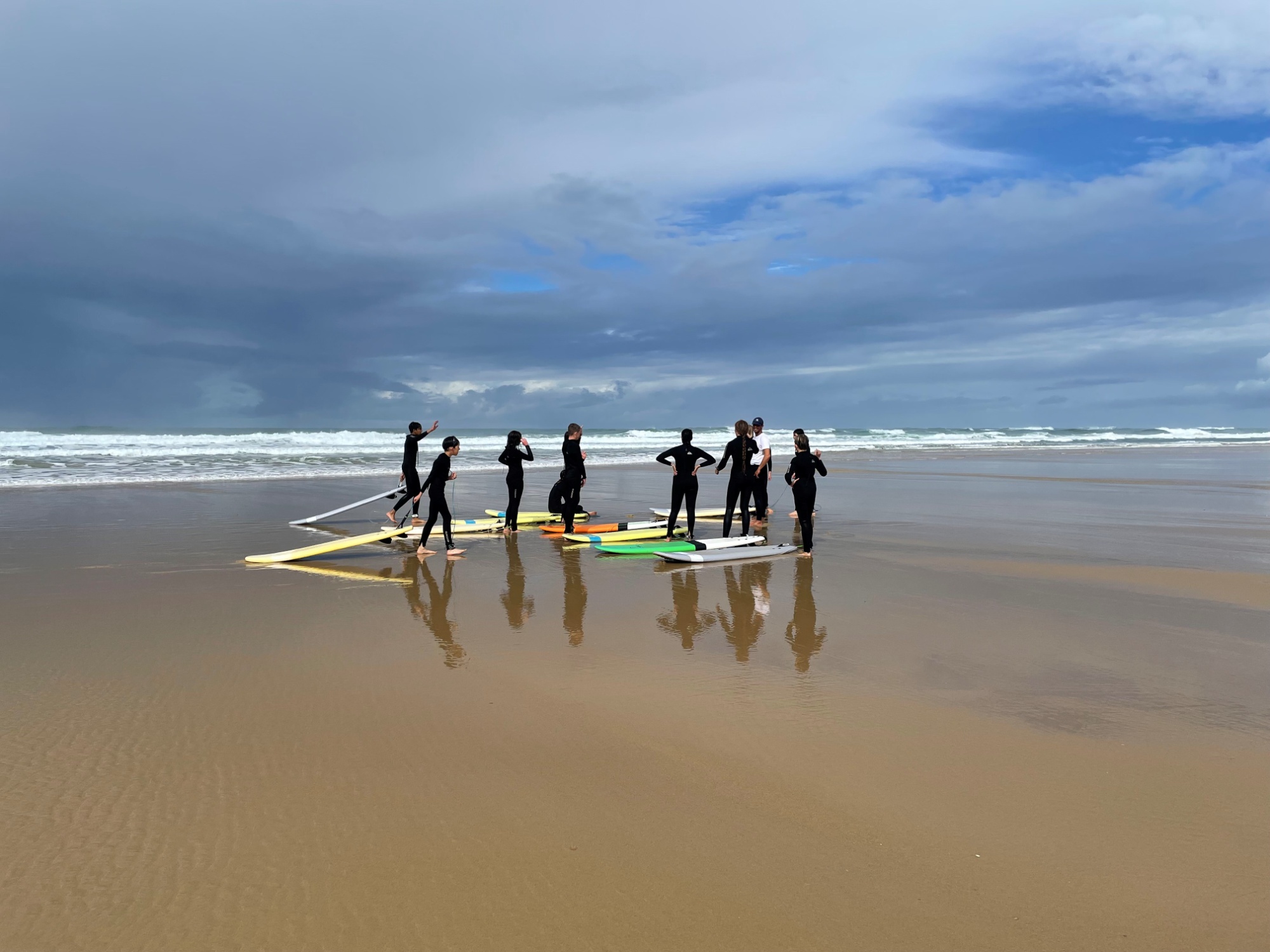 going surfing. It absolutely poured just as the students were getting changed into their wetsuits for about 10 minutes. Thankfully, after that, it cleared up and we enjoyed some sunshine, and we had the entire beach to ourselves to get involved in some surfing!
The surfing was really fun because we got to try things that we'd never done before. The instructors made it very interactive. The waves were crazy and it was great that we had the whole beach to ourselves.

Lily D, Year 9
On Friday, we went i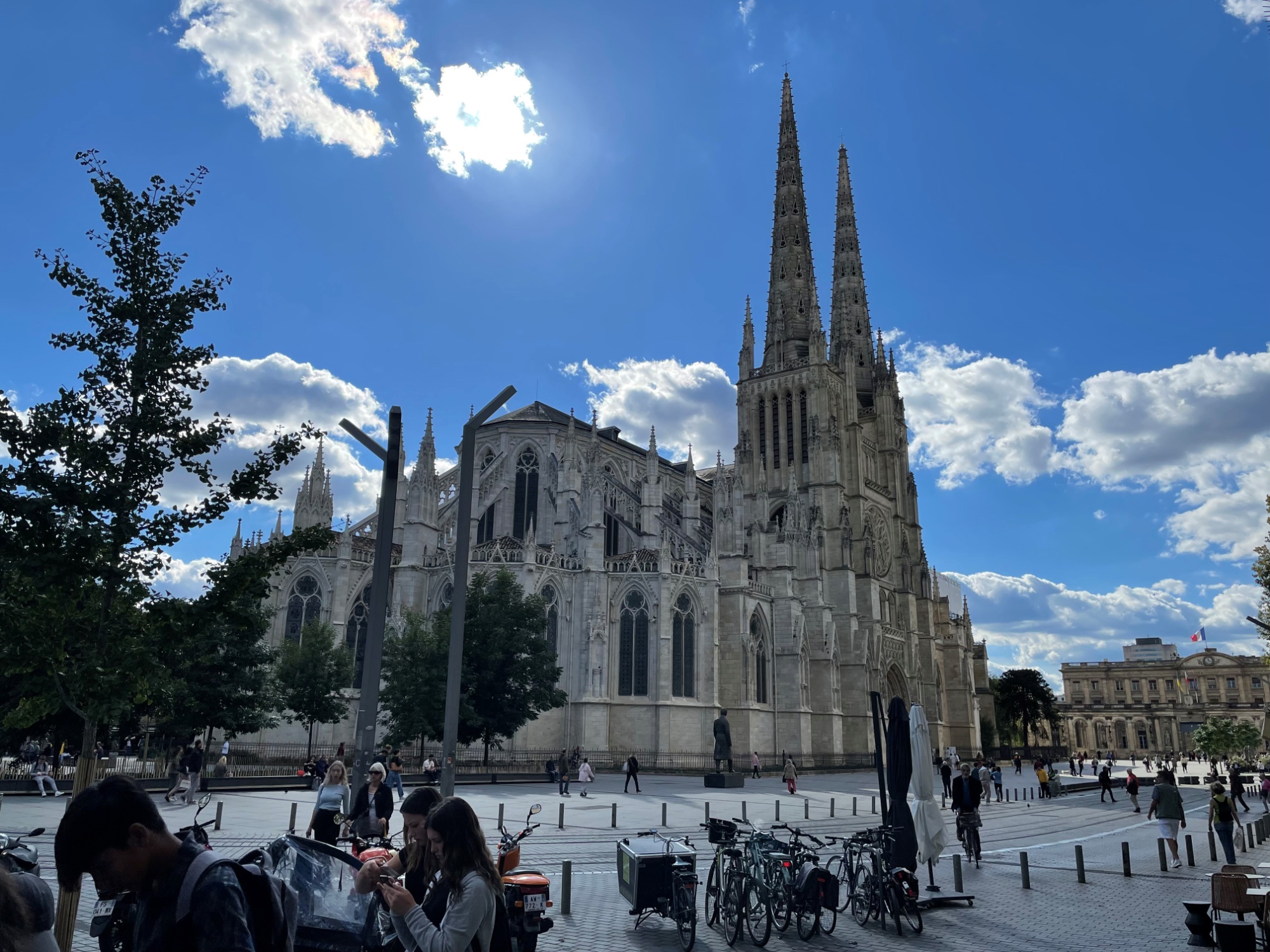 nto Bordeaux city centre. Whilst some of our students got to see it already with the family they were staying with, some were staying with families who lived further out, so it was a chance for everyone to see some of the stunning sights of central Bordeaux.
Bordeaux city centre was really good, there were lots of shops and plenty of things to do. I enjoyed the Place de la Bourse and the Water Mirror, it was fun and very pretty. The cathedral was very big and also very pretty.

Sharvi T, Year 9
On Saturday 1st October, our students travelled back home with me much more culture enriched having immersed themselves in French language and lifestyle for a full week! I'm immensely proud of them and look forward to introducing more students to la vie française or rather la vie bordelaise!
Mademoiselle Duvigneau