Sixth Form College Open Evening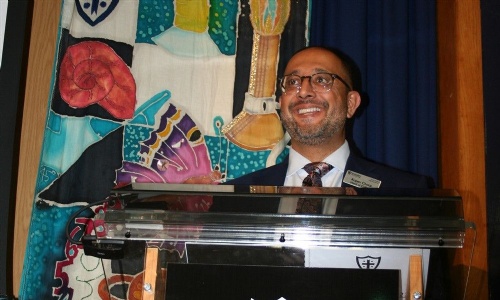 On 5th October, we held our Warlingham Sixth Form College Open Evening. The evening was well attended by our current Year 10 and Year 11 students and their parents/carers, as well as prospective new students looking to join our College.
During the evening, students got the opportunity to find out more about the courses and enrichment choices we offer and to chat to our subject specialists, along with some Year 12 and 13 students who are studying the subjects. Presentations were held in the Main Hall where Headteacher, Paul Foster, and our new Head of College, Rupen Chotai, gave an overview of the College. Visitors also heard from Year 13 students Isabel and Rhys, who gave an insight into College life and the plethora of opportunities available to our students. Year 12 Student, Amirah, spoke of how she's transitioned into the College after joining from another school. We were also delighted to welcome back a former College alumnus, Amelia, who left in 2017, to hear about her journey post Warlingham. We share a few quotes from our student speakers, as well as Amelia's story below.
I came from another school so everything was new to me. However, I realised in the first few days that starting here was not as difficult as one may think: everyone was welcoming and put a lot of effort they put into making me feel a part of the community. I really liked the idea of smaller classes and the extra support I could get when needed.

Amirah, Year 12 Student
I picked 3 academic subjects for A Level, Chemistry, Maths and Biology, with the goal of studying medicine. I have visited seven universities, some close, such as King's College, and some as far as Newcastle. I am part of a group which supports students applying to Russell Group universities. The group hugely supported me during the lead up to my university application, as it gave me advance information regarding the process, ensuring I was thoroughly prepared when the time came to begin my university search.

Isabel, Year 13
In addition to sporting opportunities, the college also provides us with the chance to go on trips which we would not otherwise be able to experience. I am hoping to go on the Business Studies trip to New York in February and I know that my friends have also been on the Geography trip to Iceland. There are also trips to CERN to see the large Hadron Collider, as well as a once in a lifetime trip to Costa Rica to see Biology in action. Warlingham has a great variety of extra-curricular activities and trips; whether you are sporty, or academic, there is something available for you.

Rhys, Year 13
College Alumni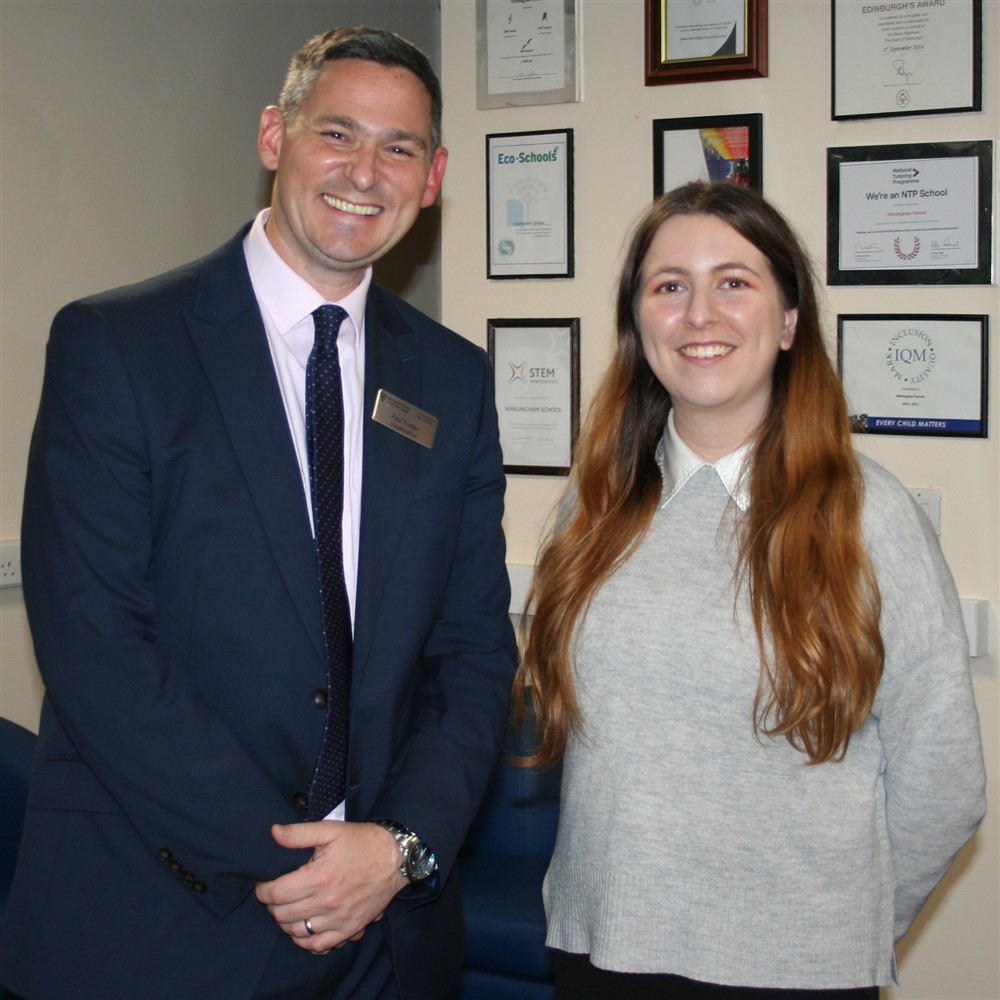 I joined Warlingham in Year 9 and left after Sixth Form College when I went on to university. Joining in Year 9 was a scary prospect as I didn't know anyone in the area. But I soon felt at home and made friends who are still some of my closest friends today. I have always been interested in performing and quickly found a home in the Drama Department, performing in school shows and joining the Tech Club to operate lights and sound for performances, as well as set up assemblies.
I looked around when it came to choosing my Sixth Form, but I think I knew I wanted to stay at Warlingham - it was nice to stay on somewhere familiar. I took English, History and Sociology at A Level, and Drama AS level, knowing that I wanted to do English at university. I was really fortunate to get into Trinity College, Cambridge to read English and I'm really grateful to the great English department at Warlingham, as well as the groups run for students wanting to attend Russell Group Universities.
The coolest thing I got to do whilst at Warlingham was in Year 13 when some of us were selected to feature in Comic Relief - as an extra in a Catherine Tate sketch. We were selected after we helped out with a Year 7 Sports Day hosted by two youtubers - Jack Maynard and Josh Pieters - so it was a very exciting year for the whole school. As someone who wanted to work in TV, I remember being so excited to take part in this: seeing the behind the scenes of one of the biggest live events of the year, and meeting the likes of Lenny Henry, Warwick Davies and - a particular favourite, Val from Bake Off. Showing people that video is my favourite fun fact about myself.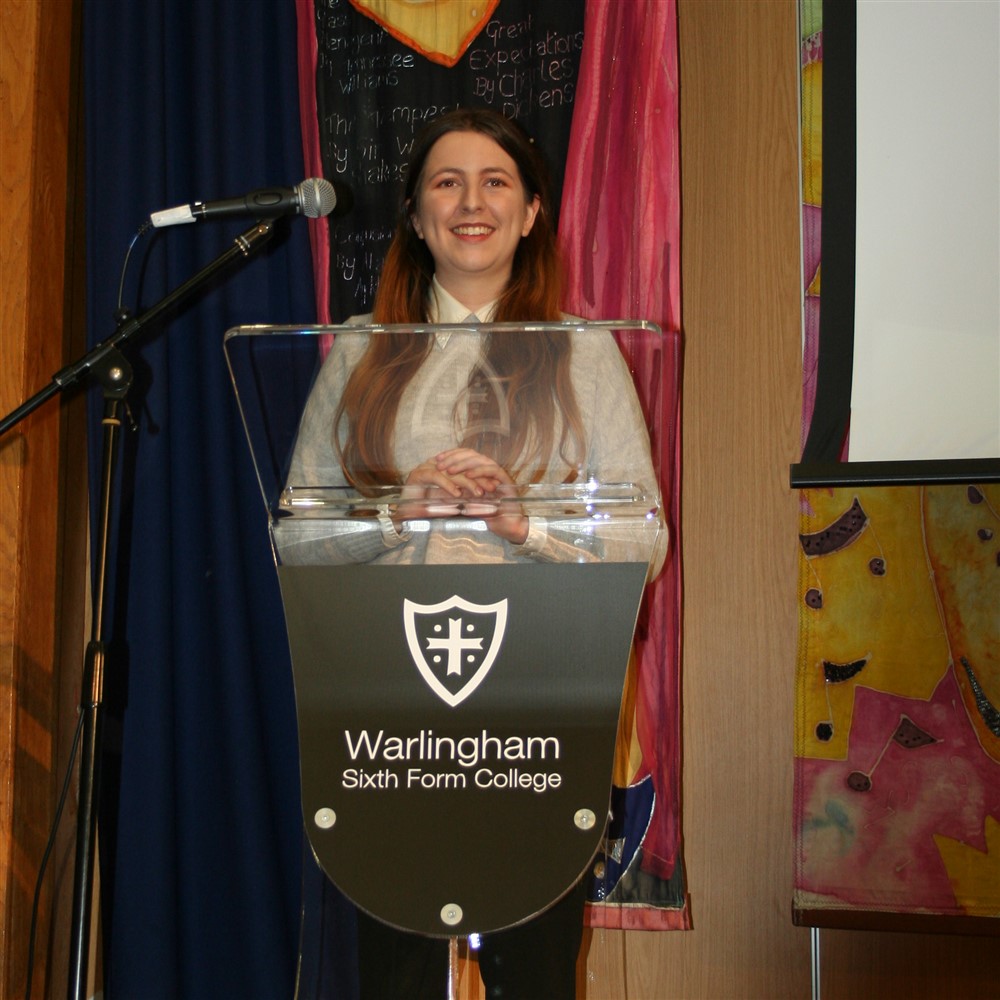 At university, I kept doing drama, moving away from performing and into producing theatre, but mostly comedy. I was lucky to work a lot with the Cambridge Footlights, through producing and as Secretary in my final year. I even produced the Cambridge Footlights International Tour show in 2019 which took a sketch comedy show to the Edinburgh Festival Fringe and round America for three weeks. I also got to come back to Warlingham and run a comedy workshop with the drama department - which was a lot of fun and I hope the students liked it too!
I am now working as a Junior Production Manager for independent production company Particle6, making BBC Bitesize videos, and producing live comedy on the side. I'm really lucky to be working in production like I wanted, and I hope to keep working in production management in TV in the future.
Warlingham was a great place for me both academically and in its extra curriculars. I highly recommend anyone who comes to get stuck into something outside your subjects - whether it is sports, something creative or social - so you can find out what you're interested in aside from school itself.