Introducing the College Student Leadership Team ​​​​​​​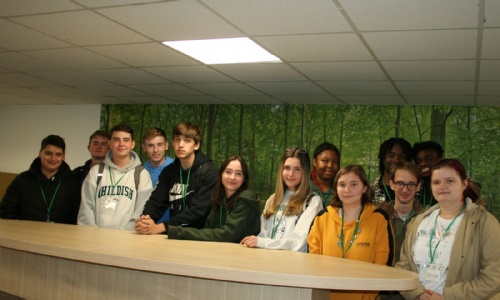 We are delighted to introduce our new College Student Leadership team who were appointed in the Summer Term.
The Year 13 candidates were put through their paces when asked to present their ideas for the roles of Student Union President and Head Prefect. The students all performed brilliantly, which made it a very tough decision for the Sixth Form College Team. Nonetheless, we are delighted to announce the positions as follows:
Position
Student Name
Head Prefects
Lucia G
William B
Deputy Head Prefects
Charlie D
Isabel R
Student Union Presidents
Joe S
Maisie T
Deputy Student Union President
Adanna D
Student Union Governors
Alanna B
Ronnie G
Prefect Team
Alanna B
Alex M
Austin A
Eliza-Jane S
Hannah L
Jessica D
Javier M
Lauren P
Leonard A
Lisa T
Paige C
Natasha S
Paul W
Ronnie G
Sharntae T
Shreyas S
The Student Leadership Team got straight to work with their duties last term helping our incoming Year 12 students settle into life in the College during our College Induction Days in July. They were all fantastic in showing students around the site, asking them questions about their experience and being very welcoming to all those involved. Lauren even presented her ideas and top tips for success in front of the whole year group which was very impressive.
Since the start of the new school year, the Student Leadership Team have also organised a welcome BBQ for the new Year 12 students to welcome them into College life and are currently organising a fundraising event for the MacMillan Coffee Morning on Friday 30th September to sell cakes to raise money for a fantastic cause.
The student prefects will be joining the other senior roles within the college of Student Governor, which represent the student body at governor meetings. This role is currently being undertaken superbly by Ronnie G and Alanna B. Congratulations to all those involved in these excellent leadership roles and we look forward to the exciting enhancements the students will make to their Sixth Form College.