Facilities Photoshoot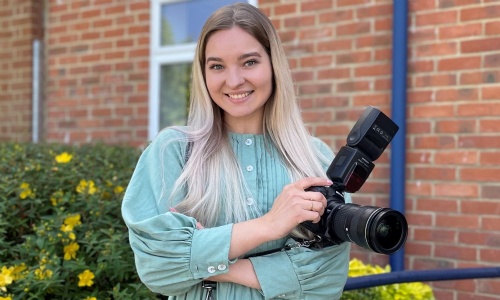 On 14th June, we brought in a professional photographer to capture Warlingham School & Sixth Form College's facilities.
The weather was on our side, as it was a beautiful sunny day, and the facilities and grounds looked superb. The focus was on our newly refurbished All-Weather Courts, as well as other facilities including the College building and garden, Science Labs and IT rooms for use in our marketing on the website and prospectuses.
We commissioned photographer Alina Levchykova for this photoshoot, a Ukranian refugee living with a local host family. Alina is from Kharkiv, Ukraine's second largest city in the northeast of the country close to the Russian border and one of the areas most ravaged by the war. Before the war, Alina lived with her mother and grandparents in Kharkiv and worked as a Photographer specialising in commercial, fashion, food, weddings and family portrait photography. When war broke out, she fled with her friend to a safe part in Eastern Ukraine leaving her family (who were too elderly to travel), most of her possessions and career behind. There, in relative safety, she struggled with no work, so when the opportunity arose to come to England to stay with a sponsor family, she jumped at it. Alina has lived in England since the end of April and hopes to continue with her photography career here. She has already been commissioned for a number of photoshoots in the local area, from our facilities, to family portraits, school proms and corporate events with other clients. If you are interested in hiring Alina for a photoshoot, please email her here.
Here's a sneak preview of the photos Alina took. We think you will agree that our facilities look fabulous. Look out for these photos and more in our future marketing materials.
Marketing Department