Year 12 Royal Holloway University Visit ​​​​​​​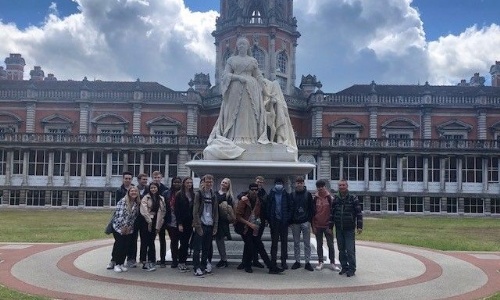 On 8th June, as part of our Aim Higher Week, a group of 15 College students, including myself, were fortunate enough to attend a taster day at the Royal Holloway University, one of the top universities in the UK. This was an excellent opportunity for us to learn about and get a glimpse of the true university life.
Royal Holloway is a university based in Egham, founded by Thomas and Jane Holloway. Built in 1879, it was opened by Queen Victoria, entitling it to the 'royal' title, it was originally a woman's only college. This was true until the 1960's when men were also permitted to study there. In recent times, it has merged with Bedford college and is now listed as one of the top 25 universities in the UK in multiple rankings.
When we arrived, we were kindly greeted by two student ambassadors who took us to a lecture hall where we learnt a brief history of the Royal Holloway, a detailed description, and a quick summary of the events of that day. Following our introduction, Professor Jens Bolte, a professor of Mathematics, took the stage. Here we were lectured on the proof of the link between maths and physics in the natural world via the use of calculus and Newton's law of motion. This was an interesting and unique experience as it gave us insight of what a university lecture is like and gave us a lot to ponder on.
After an insightful talk, we left the building for a tour of the grand campus. Here, we saw and experienced the sheer scale of the campus, from its modern business building to its Victorian founders building. During this walk, the student ambassadors described some of their unique university experiences and lifestyle and gave us some future features and facts about university life that we can be excited about, such as the opportunity to join (or even create) distinctive clubs or groups.
To finish off the day, we were given advantageous advice for our personal statements and were able to ask the student ambassadors about how they have applied for and prepared for university.
Written by Austin, Year 12 Student