Year 12 CSLA Students Run Cross Country Cup for Primary Schools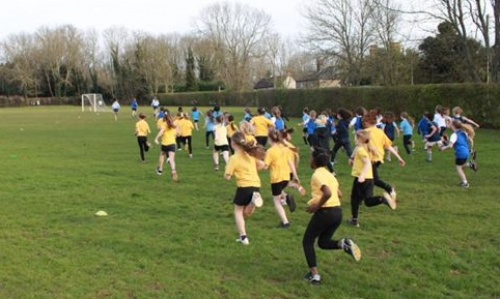 On 15th March, after two years of not being able to host a primary event, it was wonderful to have so many children from seven of the local primary schools competing again.
Weather plays a crucial role when hosting such an event and we were lucky to have perfect weather for both the spectators and runners.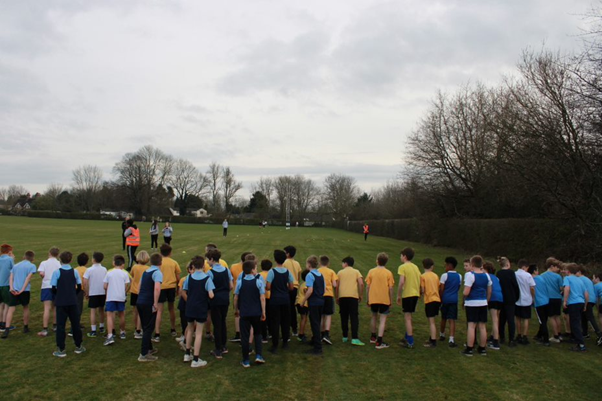 Organising any community event involves the contribution and efforts of so many different people. This event is chiefly run by our Year 12 CSLA Sixth Form students, who have to run an event as part of their leadership coaching award. We would like to thank: Beth B, Kenzie B, Rene C, Chris C, Kaycie J, Mollie L, Hannah L, Namish M, Javier M, Rosie M, Evelyn R, Dilenne R, Izzy R and Holly S.
In addition to our Sixth Formers, we had some amazing help from the following Year 9 Young Ambassadors: Dara A, Amy C, Lucy C, Lucy H, Erin K, Teagan M, Gabby S, Chloe J, Poppy H, Abi M, Heather R, Oliver S and the Year 10 Young Ambassadors who supported the event after their exam: Amy D, Kiera H, Annice K, Josh F, Emma D, Bailey C, Holly R, Phoebe K and Juneinah K.
Running continues to be a very popular sport and we had some fantastic individual results across the seven schools. To help make the event a bit more of an occasion, de Stafford School lent us some wonderful stakes to help peg out the final part of the run. Our wonderful site staff helped set up the event with roping off areas for the spectators and providing a pop-up tent for the results. Further support was given by one of First Aiders, J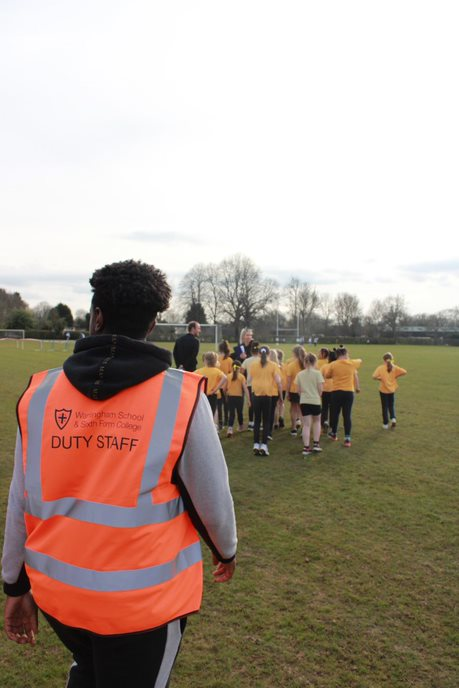 udith Standen, supported by Louise Runge.
All participants were presented with participation certificates and the top six runners in each race enjoyed being presented with a medal by Paul Kinder, our Senior Deputy Head. Thanks too must go to Lawrence McConnell in Reprographics who was responsible for producing all the paper-work. The wonderful photographs are taken by Namish, our Yr 12 CSLA and A level Photography student. It really was a team effort!
Many spectators and their runners stayed for the presentation of medals at the end. This was really pleasing to see. As in previous years, if you had four runners for each race, your school qualified for the Cup. Congratulations to St. Francis and Whyteleafe as our Cup winners - very well done. Hold onto the Cups until next year!
One final thank you is to all the Primary teachers, parents and carers who organise their teams, provide transport and massive encouragement as well as providing a huge number of spectators to cheer the runners on.
Thanks to Audley, Hamsey Green, St Francis, St John's, Warlingham Village, Woodlea and Whyteleafe. It was wonderful to see that the medals spread across all the schools too.
We are very much looking forward to hosting the next primary event.