UKMT Intermediate Maths Challenge Success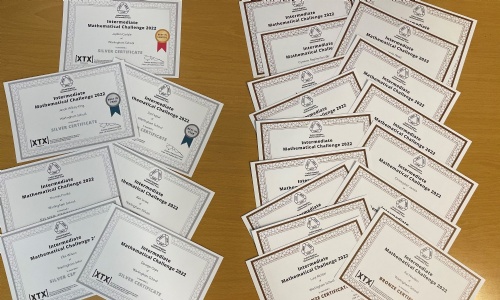 Following on from the success in previous years, some of our Year 9 and Year 10 students recently sat the UKMT Intermediate Maths Challenge.
We had some outstanding achievements with 7 Silver certificate winners: Jayden C, George C, Thomas F, Ben I, Zarif I, Jacob W-K and Ellis W with Jayden being awarded the 'Best in School' award.
We also had lots of bronze certificates. Congratulations to William Al, Joshua B, Cara B, Theo C-A, Abigail C, Lexie H, Charlie H, Christopher J, Matilda K, Scarlett M, Kai N, Emily P, Lucy R, Oliver S, Cymeon S-Wand Owen W for their well-deserved certificates.
These will be presented to them at the end of year prize giving assemblies.
Well done to all of those that exhibited excellent resilience in working through the problems set.
Example Question
Pete's pies all cost an integer number of pounds. A cherry pie costs the same as two apple pies. A blueberry pie costs the same as two damson pies. A cherry pie and two damson pies cost the same as an apple pie and two blueberry pies. Paul buys one of each type of pie.
Which of the following could be the amount he spends?
A) £16
B) £18
C) £20
D) £22
E) £24
Answer B £18