Year 9 PGL Trip to Dorset ​​​​​​​​​​​​​​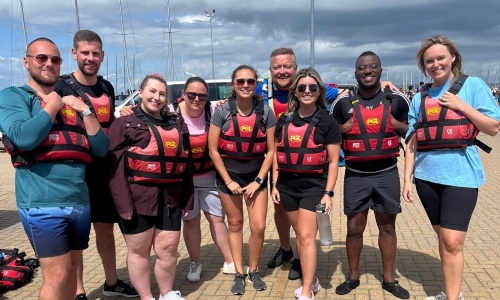 The week of the 10th to 14th July saw 100 Year 9 students and staff travel to Osmington Bay in Dorset on a PGL trip for an adrenaline-packed week of team-building activities.
The trip was led by Miss Bristow and accompanied by Mrs Payne, Mr Tipton, Mr Wagstaff, Miss Harris, Mr Robbins, Miss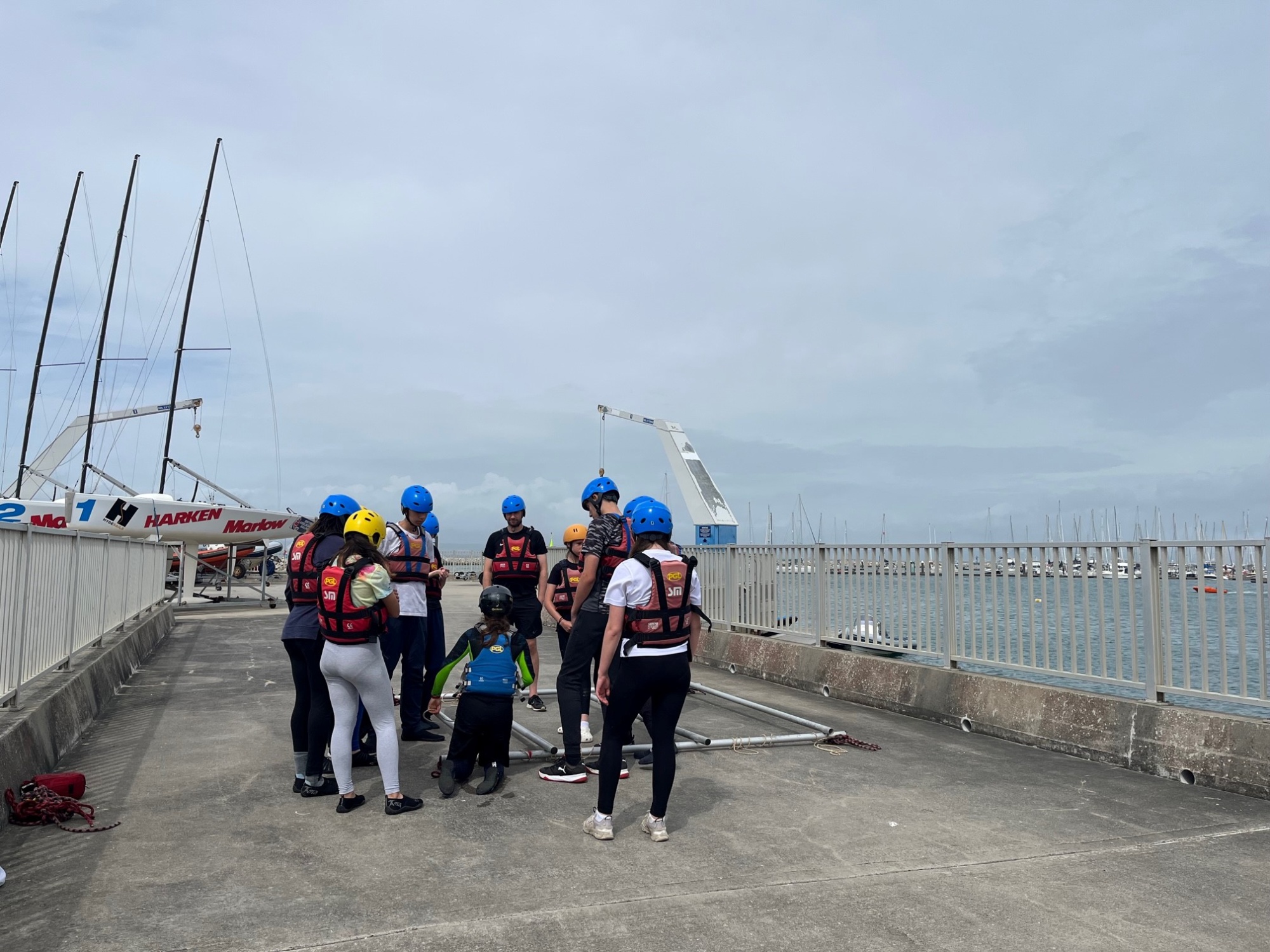 Tattershaw, Miss Raymond and Mr Valentine. Set in over 24 acres of grounds, the group were excited to arrive at the resort boasting a beautiful beach and cliff top views over Weymouth. After dinner, students settled into their en-suite log cabins in groups of four ready for the next day.
On Tuesday, students enjoyed putting their team building skills to the test when they were split up into groups and challenged to build a raft from wood, ropes and barrels. Once the rafts were built, they then had to test them out on the water with varying success governed by whether (or not) they managed to float and stay dry! This was followed by students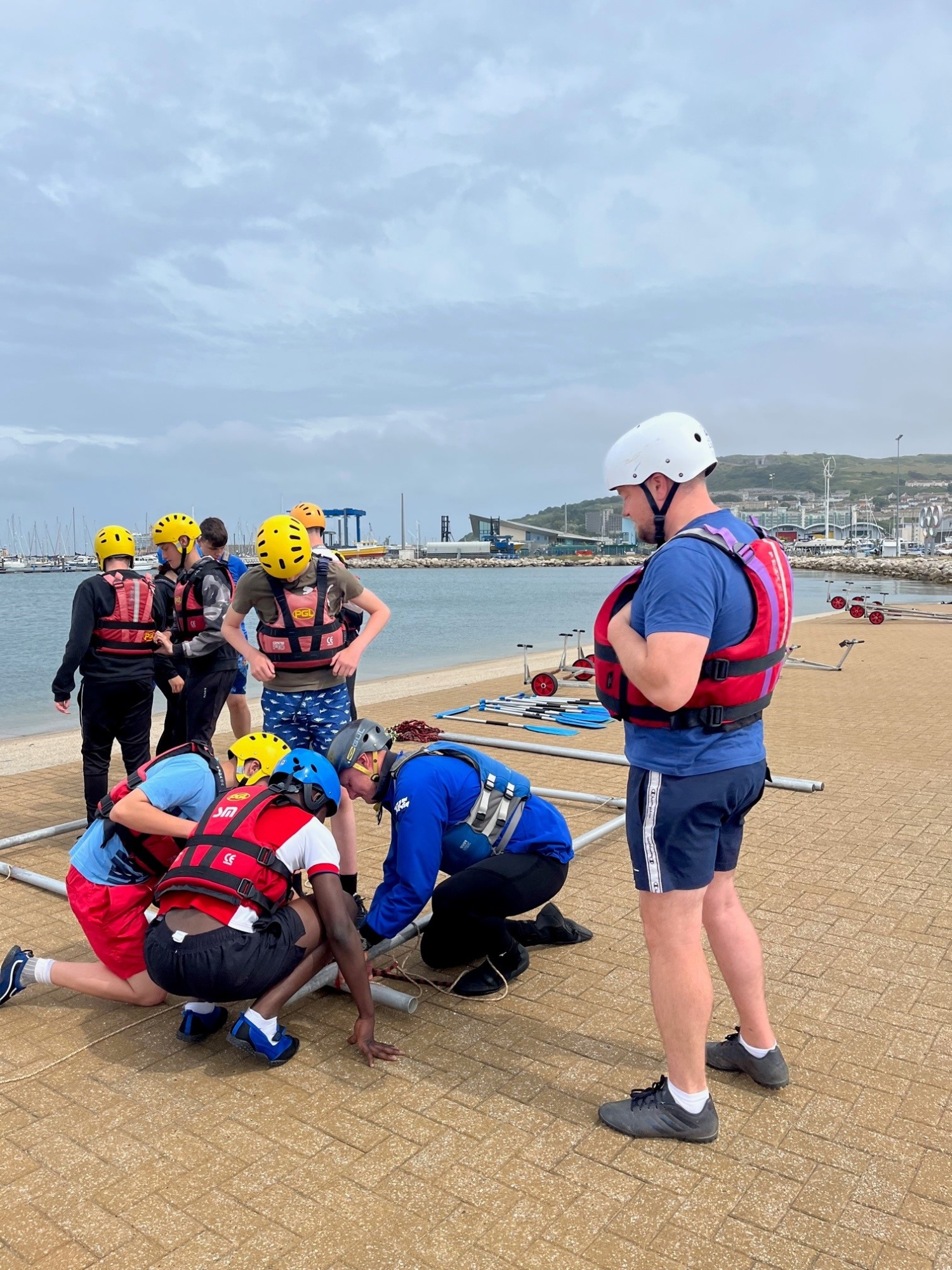 displaying a lot of courage when they scaled down the great heights of the purpose-built climbing wall in an abseiling activity where they felt a real sense of achievement and adrenaline upon completion. A real highlight was the giant swing where students were harnessed into a two-seater swing before the rest of the group started hauling them 10 metres into the air. It was up to the two students suspended in the air to decide how high they wanted to go before pulling the release cord to send them hurtling down towards the ground before swinging back towards the sky. Nothing like the swing at the local park! After such an action-packed day of high-octane excitement, the students enjoyed a more chilled evening on the beach.
On Wednesday morning, students got to try something new with a game of aeroball – a cross between basketball and volleyball – on a trampoline! Students were split into two teams each comprising two players with the aim being to get the ball into the opposition's net. It was trickier than it sounds with players needing to work out how to time their bounce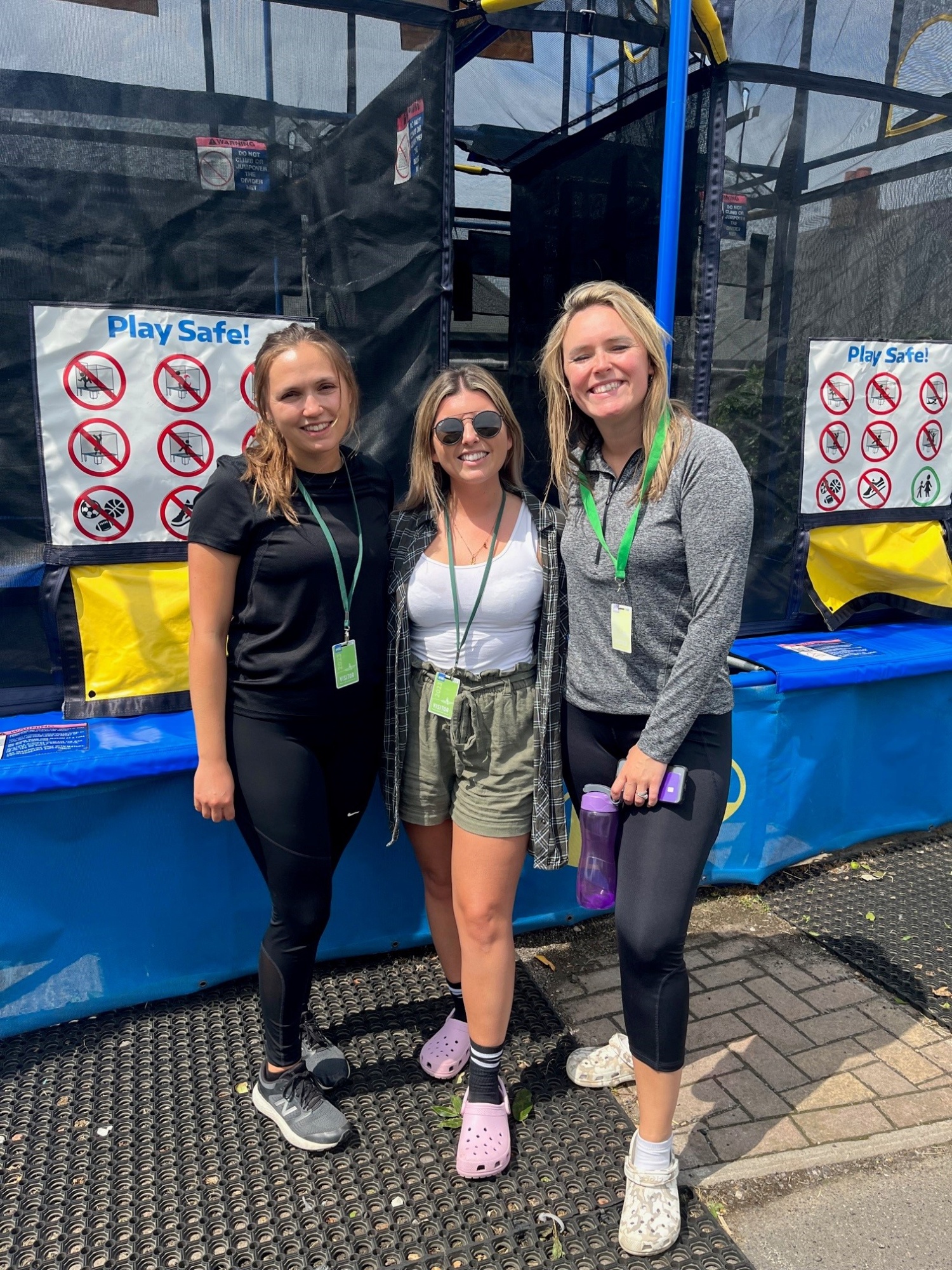 and shot to score and it required good communication, teamwork, and a lot of energy! Next, the students' strength and agility were put to the test with a climbing activity where students had lots to learn with an introduction to the basic skills and techniques of climbing and how to identify and control risk before they had even left the ground. Once ascending the wall, their determination, clear thinking, and adrenaline helped them to reach the top.
After a land-based morning, the afternoon took to the water with the whole group participating in Dragon Boat Racing. This was the ultimate team event and proved very competitive! With an instructor at the helm, the students' ability to communicate as a team to paddle rhythmically were really tested. There was lots of fun, laughter, splashing and chanting from each boat and the 'beans on toast' chant was a favourite! Come evening, everyone joined in with different activities ranging from playing Uno to listening to music, to football and Volleyball, where the teachers got highly competitive!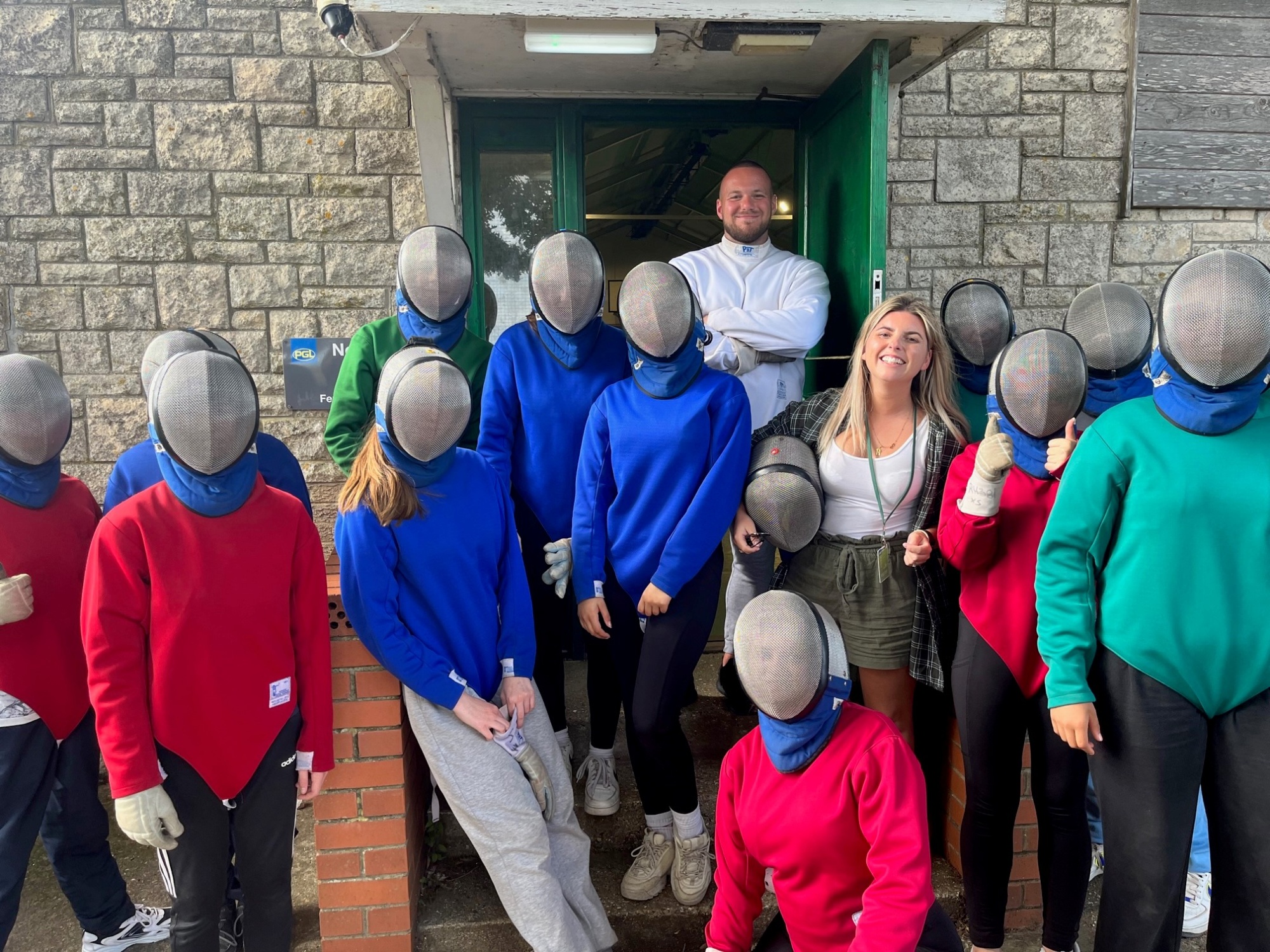 Students were awake and raring to go for their final day of activities on Thursday where another action-packed day ensued. First up was fencing where students donned their epee masks and enjoyed a workout for body and brain. Their hand-eye coordination and fast footwork were put to the test alongside their decision-making and fast reflexes as they endeavoured to outwit their opponent. Next, they unleashed their inner Robin Hood with a bow and arrow in hand for archery where they attempted to hit the bullseye. Jacobs Ladder was the final big activity which saw students scale a giant size ladder with a little help from their friends. Ascending these ladders suspended high into the trees was no easy feat as students pushed and pulled each other up or stood on each other's shoulders all in their quest to safely scramble to the top of the ladder. Come evening, everyone was rather exhausted, but a repeat of previous evening's fun and games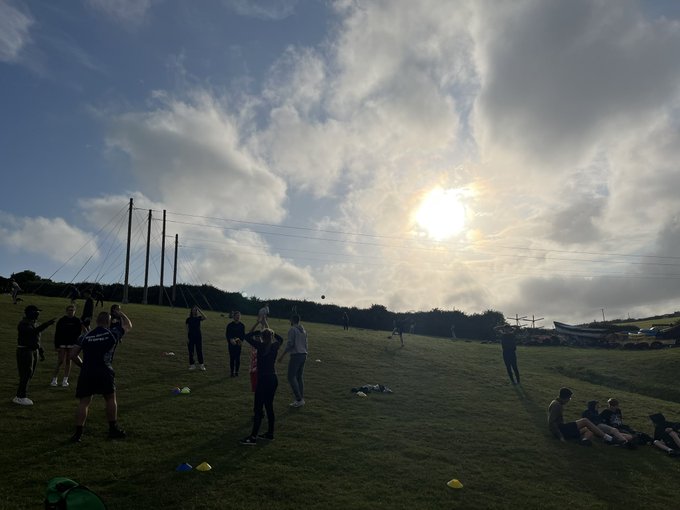 occurred before students headed to their cabins to pack up ready for the morning's departure.
On Friday, alas it was the end of the trip, and the group boarded the coaches after breakfast for a three-and-a-half-hour journey back to Warlingham exhausted yet enriched with the invaluable life skills they had learnt throughout the week. We would like to say a special thank you to show our appreciation to the PGL leaders Sarah and Layna for their excellent work with us throughout the week.
Our trip to PGL was brilliant and I particularly enjoyed the activities. My favourite was probably the giant swing because it was really quick. I also thought the archery was fun - I was bad at the start but then I got better. We even won the 'pizza mini game' on the archery activity which was great. During the evening, we had big football match which was really good fun. We were so lucky to have such good weather so we could enjoy time outside.

Oliver S, Year 9 Student
I really enjoyed raft building as we got to learn how to construct a safe raft and then jumped into the sea at the end. All the teachers were splashing each other, and it was so much fun. Surprisingly, my favourite activity was the giant swing. It was scary at first, however, when I got to the top, there was a great view of the ocean, and it was so much fun coming down.I had fun hanging out with my friends, playing card games, and playing ping-pong in our down-time. The teachers played volleyball with us in the evening, and it was nice to spend time with them outside of school! We had two amazing PGL leaders, Layna and Sarah, who really looked after us. They made sure we had lots of fun and that our tummies were full! I particularly enjoyed the jam doughnuts and chocolate cupcakes from the canteen! It was an incredible experience being away from home and learning how to be independent for the week! I would do it all over again if I could!

Meredith W, Year 9 Student