Year 9 & 10 Sports Ambassadors Run Primary Multi-skills Festival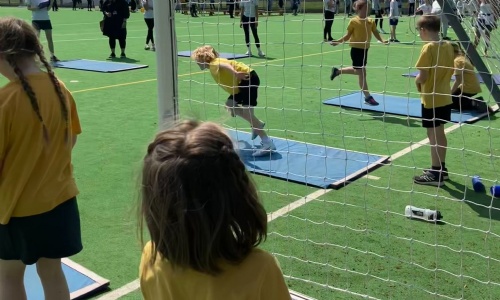 On Tuesday 16th May 2023, our Year 9 and Year 10 Sports Ambassadors ran a Primary Competition at Warlingham for the children in Year 3 & 4 from five local primary schools.
The purpose of the event has three main functions. Firstly, to provide competition for the primary schools, secondly to provide leadership opportunities for the secondary aged students and thirdly to provide an enjoyable sporting activity for the local community that promotes physical activity and well-being. We were especially delighted to run this event having had a hiatus since 2019 due to the pandemic.
The multi-skills competition has an athletics theme, and the idea is to provide ten stations in isolation where the children compete in different athletic skills. Some testing power, others testing accuracy, speed, strength and endurance. Our sports ambassadors were there to guide the younger students round and to record their scores.
We are very fortunate with the facilities at Warlingham and we were able to provide a lovely spacious astroturf for the event in the sunshine.
This year's results:
| Position | School |
| --- | --- |
| 1st | Whyteleafe |
| 2nd | Woodlea |
| 3rd | St. Francis |
| 4th | Hamsey Green |
| 5th | Audley |
All primary participants were awarded with participation certificates and the top three schools enjoyed receiving medals from our Senior Deputy Head Mr Paul Kinder. The winning school, Whyteleafe also received the Cup.
As with all community sports events, there are always so many people to thank for their input into making the event a success. Firstly, we would like to thank our Year 9 & Year 10 Sports Ambassadors who were: Kieran J, Joel G, Tom H, Alice B, Seanna C, Olivia H, Gaby M, Jamie P, Albert W, Emma R, Amy H, Beth H, Summer K, Louise S, Felipa N, Floria N and Elena in Year 9, and Year 10 students: Jess C, Erin K, Teagan M, Sienna D, Mie Rose P, Ethan B and Oliver S. Thank you also to our Year 12 students for their help running various positions on the day. The results table and crossing were run by our CSLA students Tayah B and Katie B and over lunch, the car-parking and crossing was run by Jack R, James C, Maddie S and Troy B. Thank you to CSLA student Alisa J for the photography on the day. It was a real cross-year effort, be it from primary age, all the way through to those running it from Year 9 and 10 through to Year 12!
A final thank you to all the Warlingham staff involved, including the PE department for changing their schedule and providing the equipment, the Site Team for setting up the event and, behind the scenes, Lawrence McConnell for all the printing required, Carolyn Walker for the First Aid, Steve Day for checking the risk assessment and Debbie Westley and Jo Crowhurst for providing the high visibility jackets.
Vanessa Salem
PE Teacher