Celebrating A Level Results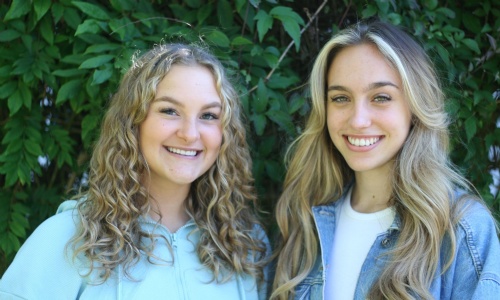 College students receive their Key Stage 5 results.
Warlingham Sixth Form College would like to congratulate all our hard-working students on the receipt of their Key Stage 5 results this year. In particular, the following students achieved outstanding results:
Abigail J - A* A* A*
Rebecca J - A* A* A*
Katie M - A* A* A*
Luke S - A* A* A*
Emily H - A* A* A
Amy K - A* A* A
Sarah-Jane B - A* A A
Katie B - A* A A and A (AS Level Further Maths)
Elsa J – Dist* A A
Grace D - A* Dist* B
Paula M - A A A
Maria R – A A A
While we are proud of the high attainment of a number of our students, we are delighted to also recognise the progress made by all our students and their achievement of the grades they need to pursue their next steps. In particular, we'd like to recognise the progress made by three of our students in the face of some very difficult challenges.
Jake F has worked incredibly hard and with the support of the College team and a number of teachers, he has achieved the BTec and GCSE grades required to access a Chelsea Football Club Coaching & Development degree at St Mary's University, Twickenham.
Holly D remained in very close contact with her Head of Year and all of her teachers, staying focussed and managing to complete work on time. With the support of her teachers and her class mates she has achieved the grades (Distinction, Merit and B) that she needed to access her degree in Law at Bournemouth University.
Josie M has persevered and has always remained positive and upbeat when in College. She has worked incredibly hard, often remotely, and with the support of the College staff and teachers, she has achieved some fantastic results – An A and B at A Level and an AS grade A. She now plans to take a Foundation Degree in Art and Design at East Surrey College.
Headteacher, Paul Foster said, "We are hugely proud of all the work and achievements of our college students, especially after such a difficult and disrupted college experience. Our staff have worked tirelessly to ensure students are all able to progress onto further education and study or into apprenticeships and employment. We wish them every success in their next steps and look forward to seeing how their ability to face and overcome challenges with commitment, courage and kindness secures further achievement in the future."
Assistant Headteacher and Head of College, Rob Scott, was also delighted: "I have been particularly impressed with the hard work and dedication shown by so many of the students in this year group and it is pleasing that for most of them their hard work has been rewarded with a number of excellent grades. I am also very proud that many of our students continue to demonstrate their wider commitment both to the college and to the local community as part of our Advance Award programme, which ensures that our college students continue to be sought after by universities and employers."
Thanks to their excellent results, many of our College students are now looking forward to joining a number of the top universities, including Abigail J, Rebecca J and Katie M who are going to the University of Bristol where Abigail will be reading Geography, Rebecca, Psychology and Katie will be studying Medicine. Amy K and Emily H are both studying Marketing and Management with a placement year at Loughborough University. Katie B will be reading Chemistry at the University of York, with a year abroad, Sara-Jane B will be studying Veterinary Medicine and Science at the University of Surrey and Grace D will be studying Physiotherapy at the University of Salford.