Students mark local care home resident's 100th Birthday ​​​​​​​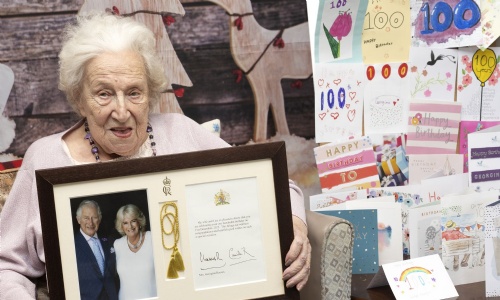 The Warlingham pastoral team are always looking at initiatives to provide our students with opportunities to complete acts of kindness to support the wider community.
Before Christmas, as part of an optional home learning task, we invited our students to make a birthday card for a resident of a local care home who was celebrating her 100th birthday, our aim being to send 100 cards to celebrate her 100th years. Georgina celebrated her 100th birthday on 16th January and was delighted to receive our cards and wishes for her 100 years.
It is a privilege to work with Acorn Court Care Home, the residents of which will be judging a card competition for us in future.
Thank you to all students who made a card and demonstrated their act of kindness, which really does go a long way, and to Ms Obmann for organising this initiative. We are proud that they are truly embodying the Warlingham value of Kindness, something that Ofsted noted in their recent inspection.
The school's values of 'courage, commitment and kindness' run through every aspect of school life

Ofsted 2022
We are delighted that story has received interest from the local media, including local radio station SUSY Radio.
Listen to the news broadcast below, or click the link to read the article on SUSY Radio's website.