January's First Monday of the Month Music Recital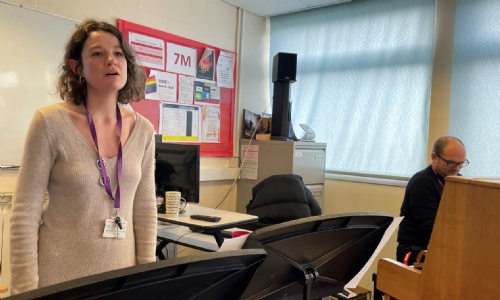 It was decided that it is only fair that the Music Department staff get involved in performing at one of the First Monday of the Month Music recitals.
So, January was our slot - straight after the Christmas break! Miss Searle gave a stunning and warm rendition of 'Summertime' by Gershwin accompanied by Mr Duff on the piano on a cold, wet, windy Monday lunchtime - it inspired us to think of warmer days to come soon! A faultless performance by Miss Searle, showing off her exceptional talents to a wider audience.
Next up was Mr Cameron on the piano with Mr Duff on the trumpet. They performed the classic jazz piece 'Cantaloupe Island'. Mr Cameron took the improvisations first, followed by a growling trumpet solo.
The next First Monday of the Month Music Recital will be from Year 10 and Year 11 GCSE Music students on 6th February as they prepare to present their solo and ensemble pieces for examination later in the term, and we welcome all staff and students to come along to support them.
The Music Department