Warlingham Sixth Form College students celebrate their results! ​​​​​​​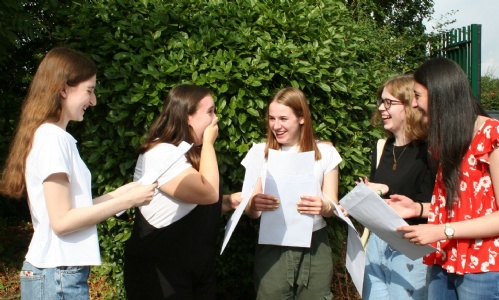 Warlingham Sixth Form College would like to congratulate all our hard-working students on the receipt of their Key Stage 5 results this year, with 88% of students achieving their first-choice university places and the vast majority securing progression to their chosen next step.
In particular, the following students achieved outstanding results:
| Student | Results |
| --- | --- |
| Joanna E | A* A* A* |
| Mia F | A* A* A* |
| Harry L | A* A* A* |
| Matthew W | A* A* A B |
| Kacie R | Dist* Dist* B |
| Erica A | A* A A |
| Emma P | A* A B and A in EPQ |
| Abbie H | A*A B |
| Carla M | Dist, Dist, Dist |
| Jasmine R | A A B and A in EPQ |
While we are immensely proud of the high attainment of a number of our students, we are delighted that so many of the students achieved the grades they need to pursue their next steps, especially in light of the challenges they have faced in the last three years.

Headteacher, Paul Foster said,
We are hugely proud of all the work and achievements of our students, especially after such a difficult and disrupted college experience. This cohort came into these examinations having last sat high-stakes public examinations in primary school. The students and our staff have worked tirelessly to ensure students are all able to progress onto further education and study or into apprenticeships and employment. We wish them every success in their next steps and look forward to seeing how their ability to face and overcome challenges with courage, commitment and kindness secures further achievement in the future.
Head of College, Rob Scott, was also delighted:
I have been particularly impressed with the determination, dedication and resilience shown by our students. Faced with the most trying of circumstances over the last three years they have remained positive, and it is pleasing that their hard work has been rewarded with excellent and well-deserved grades. I am also very proud that many of our students continue to demonstrate their wider commitment both to the college and to the local community as part of our Advance Award, a programme which supports our students into securing the very best university, apprenticeship and work-based opportunities.
Thanks to their excellent results, many of our College students are now looking forward to joining a number of the top universities, including:
| Student | University |
| --- | --- |
| Abbie H | Religious Studies with a Masters, University of Edinburgh |
| Ben C | Politics and Economics, Cardiff University |
| Carla M | Events Management, Bournemouth University |
| Emma P | Philosophy, University of Bristol |
| Frankie G | Sports Journalism, University of Brighton |
| Harry L | Biochemistry, University College London (UCL) |
| Jasmine R | Psychology, a Russell Group University |
| Jo E | Medical Sciences and Engineering, University College London (UCL) |
| Kacie R | Nursing, Anglia Ruskin University |
| Matthew W | Mathematics, University of Birmingham |
| Mia F | French and Italian, University College London (UCL) |
We wish every student the very best of luck with their next steps post Warlingham Sixth Form College.