Year 9 Students Complete Bronze DofE Final Expedition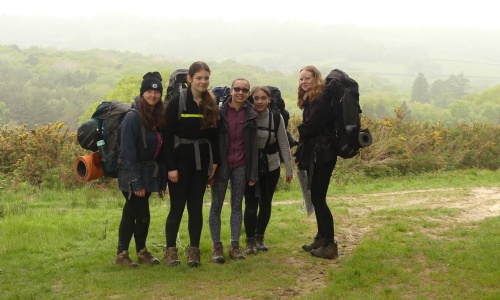 On Saturday 13th May, we met our Bronze DofE Students in East Grinstead for their Final Bronze Expedition in the Ashdown Forest.
Half of the group started on the East Grinstead route, while the other half started with the Forest route. We were very lucky with the weather as the sun shone for the whole weekend! The students did brilliantly navigating their way as a group and showed fantastic commitment. Students made it back to Blacklands Farm where we were camping for the night, set up their tents and started cooking dinner on the trangia. They were a lot more confident with their tent pitching skills after the practice weekend in April! On the second day, the groups were up and raring to go, so we started setting them off on their second route for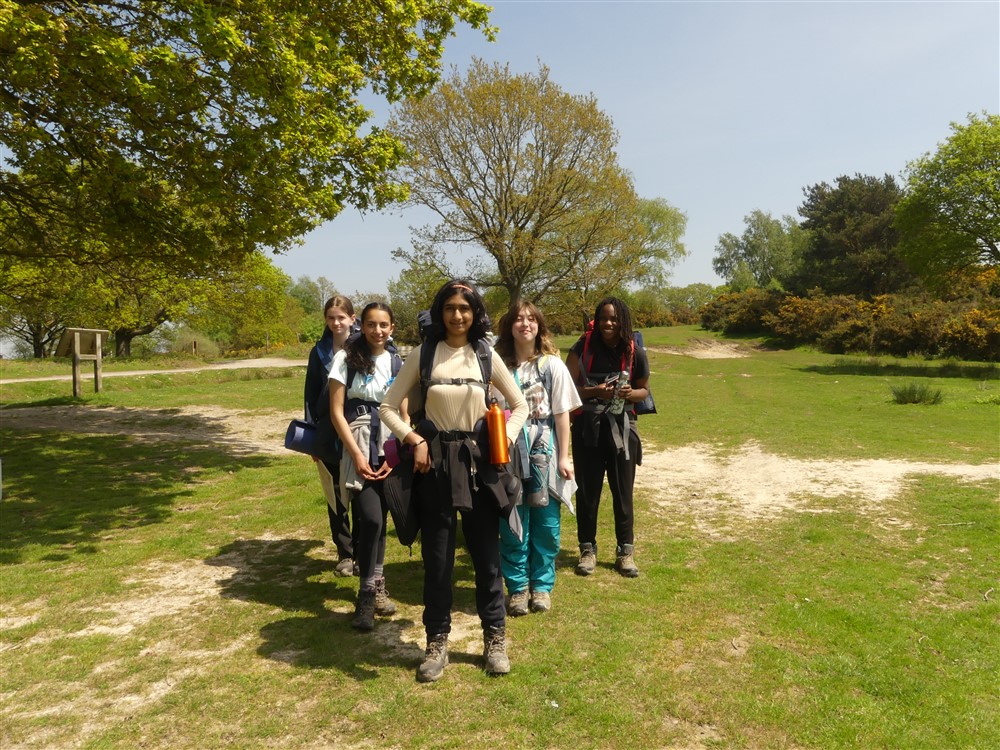 the weekend. Again, the weather was kind to us and the students did really well to make it to the final checkpoint and go home. We are really proud of how well the students did on both the practice and the final weekend, and we look forward to seeing as many of them join us on Silver next year! Read below the accounts from some of the students who participated.
Megan Johnson
DofE & Enrichment Coordinator
On Saturday, Mary, Bella, Olive, Amelia and myself began at East Grinstead car park. Once we were all there, we received our maps and compass and then set off. It was all going great until we came across a field of cows! We had to go through it and we were scared but it was ok in the end and we made it through! We finally made it back to the campsite after 6 hours of walking. We helped the teachers put up their tents and we put up our own ones. After putting up our tents, we started cooking on the trangia. After dinner, my friends and I went down to the woods in the campsite and it was so nice so we decided to do a photoshoot! Eventually, we went back to our tents and played Uno and Mary won. Soon after, we went to sleep. When we woke up the next morning, we cooked our breakfast, packed up our stuff, then packed away our tent. We got taken in the minibus to our starting point at Wren's Warren where we began our second day of walking. We began by walking to Pooh Bridge where we played Pooh Sticks - Mary won again! Then we continued our walk. We arrived at checkpoint 2 and had lunch in a beautiful field. After lunch, we continued walking and we finally made it to the end where our parents picked us up.

Honey M, Year 9
Our experience on DofE was great. We went on two walks and had loads of great times on them. The weather was also amazing - 20 degrees! On the first day, we got down to the Ashdown Forest at 9.30am. We had already planned our routes and we were ready to go. We saw loads of rivers, cows, horses...and mud! We sped through the first checkpoint and then had lunch. Then we walked until we hit our last checkpoint - Pooh Sticks Bridge where we played Pooh Sticks and Seanna won! After, we took the minibus back to the campsite and set up our tents. Then we cooked sausages and rice for dinner and went to sleep. The next day, we left for the East Grinstead route at 8.30am. We got a bit lost when getting to the first checkpoint but then got to the second checkpoint quite quickly and had lunch there. We then made it to the train station where we got picked up.

Group 7 - Kieran, Tom, Ciara, Alice, Seanna & Ronnie, Year 9
Last weekend we went on our Final Bronze DofE expedition and spent two days walking in the Ashdown Forest. We started at Millbrook car park and ended up at East Grinstead train station. We thoroughly enjoyed the experience and hope to take part in Silver DofE next year.

Ben F & Group 8, Year 9: