Salamanca Spanish Trip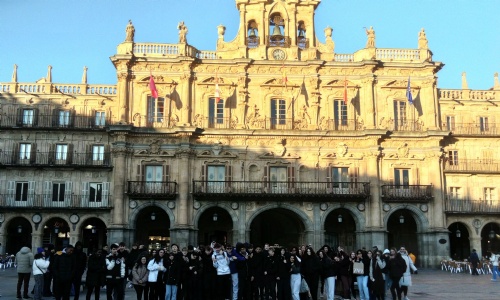 On 22nd January, we took 68 Year 10, 11, and 12 students to Salamanca as part of their Spanish studies.
When we first arrived, the students were nervous to meet their host families but showed real courage and commitment and went and enjoyed dinner at their houses. Students studied at Colegio Delibes
every day through speaking and grammar lessons, then participated in group activities in the afternoon, including a cooking class where students made tortilla española, a salsa class, and a trip to the historic village of La Alberca, the first rural village in Spain to be given the National Historic Heritage status. It was fantastic seeing the students' independence and confidence increase throughout the trip and we are so proud of how well they took to their new way of life for a week. The students were a real credit to us with Easyjet even commenting on how brilliant they were on the plane. We are so delighted that we were able to run this trip again after a break due to COVID-19, and we can't wait to take students again next year.
We were delighted that two former students, Jasmine and Rowena, who completed their A levels with us last summer, kindly came back to assist as trip
leaders this year. Read below an account from Jasmine about her experience of the trip and view the action packed itinerary.
Brigitte Smales & Megan Johnson
Modern Foreign Languages Department
As a former student, I was lucky enough to be given the opportunity to join the Salamanca Trip this year as a leader. Having now had the opportunity to go on the trip both as a student and as a leader, I have seen the hard work that goes into organising this trip and the wonderful memories that each and every one of the students gain. I feel the greatest part of the trip is the immersion and the independence that the students get to experience. By studying at the college during the day, they are given the opportunity to learn from some of the most skilled Spanish teachers in the world and the improvements in knowledge and confidence I felt when I went as a student previously and that I saw in the students this time was incredible! By staying with a Spanish family, they understand more about Spanish day-to-day life and are put into a real-world situation where they must utilise their Spanish knowledge to communicate. Taking part in activities, such as salsa dancing and visiting La Alberca, students truly get a taste of Spanish culture, see beautiful sights, and have a lot of fun. But by far, my favourite part of the trip, as both a student and a leader, was exploring the charming city of Salamanca, learning about its rich history, seeing the intricate architecture and of course, roaming the numerous shops! I'm so thankful to have been able to see all of the 68 students this year enhance their Spanish and create these lifelong memories.

jasmine, former student
Trip Overview
Day 1
Depart from Gatwick Airport to Madrid
Coach trip to Salamanca
Students enjoy their first dinner with host families
Day 2
Language school 8.30am – 1pm
Guided tour of Salamanca City where students learnt about the history of the University (the third oldest in Europe), discovered the beautiful architecture of the Plaza Mayor and the Cathedral. It also allowed us to get our bearings in the City Centre.
All meals with host families
Day 3
Language school 9am – 1pm
Traditional cooking class to make tortialla Española, a Spanish egg and potato omelette and Salsa dance classes.
All meals with host families
Day 4
Language school 9am – 1pm
Sport – a slight change to the itinerary as the sports centre where we were due to play padel had been damaged after heavy rain. Therefore students went to another sports centre where they were able to play football, basketball and table tennis. It was a great opportunity to catch up all together and release some energy!
All meals with host families
Day 5
Language school 9am – 1pm
Trip to the historic village of La Alberca, the first rural village in Spain to be given the National Historic Heritage status. Packed lunch provided by host families.
Breakfast and Dinner with host families
Day 6
Language school 9am – 1pm
Cinema at school. Students watched the film Coco - in Spanish of course! Coco introduces the festival "El día de los Muertos - Day of the Dead" which is celebrated in Mexico. Festivals and Traditions in the Spanish speaking world is a topic we study at GCSE.
Visit to Barrio del Oeste, a neighbourhood in Salamanca known for the vibrant art on its buildings and streets, completing a selfie challenge. A prize was awarded for the best one!
All meals with host families
Day 7
Breakfast with families
Coach journey to Madrid
Before heading to the airport, we had time to visit the Spanish national art museum Museo del Prado. Students were able to take a walk around and discover the amazing masterpieces of Velázquez, Goya, El Bosco and El Greco. Students were given an activity booklet to complete together with a map and directions of each painting they needed to discover.
Flight home to London Gatwick