SUMMER TERM EDITION 12
28 JUNE 2022
Message from the
Headteacher
This week, we celebrate Year 11's five-year journey to their GCSEs, and Year 13's seven-year journey to their A Level and vocational examinations, with their Year 11 and Year 13 Proms.
The experience of a return to formal examinations for these students has been a demanding one for them and their teachers and all staff who support them. Despite the impact of COVID-19 in the last two years, these students have been well prepared and set about these examinations with determination and resilience. This is testament to their hard work, aspiration, and motivation. We wish them every success for results days in August.
27 Jun 2022

The work of the ARAG over this school year has been significant. Much of the work that has been done may not be immediately obvious, but it is this 'behind the scenes' work that ensures strong foundations in our work as an anti-racist school and in achieving our aim to 'bring our c...
25 Jun 2022

On 14th June, we brought in a professional photographer to capture Warlingham School & Sixth Form College's facilities.
23 Jun 2022

On the afternoon of 16th June, the sun was shining, and crowds of parents, grandparents, carers and students gathered to celebrate the wonderful achievements of our art GCSE Art and A Level Art, Textiles and Photography students at our Art Exhibition in the main hall.
20 Jun 2022

On Tuesday 7th June, Warlingham School & Sixth Form College opened its doors to welcome a wide variety of representatives for our inaugural Futures First Careers Fair for Year 10 and Year 12 students.
24 Jun 2022

We have commissioned a professional photographer for a three-day photoshoot in June and July at Warlingham to take photos for our new main school and College prospectuses, the website and other marketing materials to promote the school and college.
13 Jun 2022

The Warlingham Sixth Form College team was delighted by the success of our Aim Higher week at the beginning of June when Year 12 students started to think about their next steps for life after College. At such an exciting juncture in students' lives, it was great to see them start to research...
17 Jun 2022

On Friday 10th June, as part of our Aim Higher week, my fellow peers and I embarked on a trip to the Amex Stadium in Brighton to attend the UK University Search event.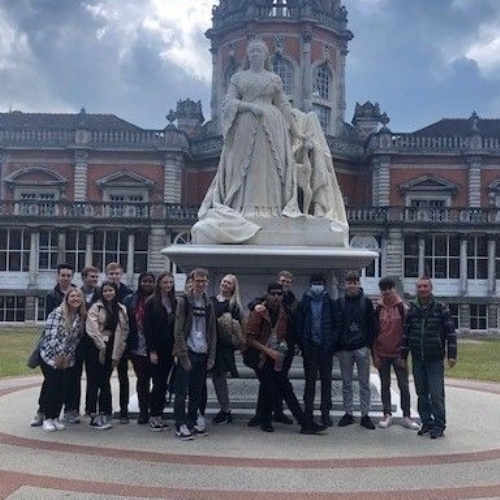 14 Jun 2022
On 8th June, as part of our Aim Higher Week, a group of 15 College students, including myself, were fortunate enough to attend a taster day at the Royal Holloway University, one of the top universities in the UK. This was an excellent opportunity for us to learn about and get a glimpse of the true u...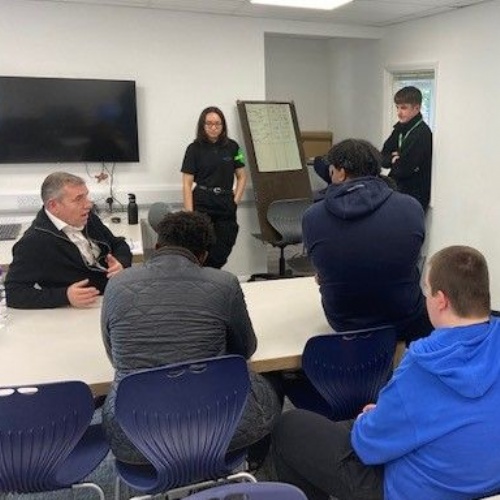 08 Jun 2022
On Monday 6th June, as part of our Year 12 Aim Higher week, we invited a member of the Gatwick Airport team and two current apprentices to come into the College to deliver a talk to our Year 12 students.

As part of our registration activities, students have the opportunity to learn about and debate topics each week, using resources from VotesforSchools. This helps provide students with a wider understanding of current affairs, develops their empathy and kindness skills when considering sensitive issues, and also enables them to practise forming arguments and debating.
Furthermore, they have their voices heard as VotesforSchools shares the voting outcomes with a variety of organisations, including governments and charities.
Recently, students have discussed the topics 'Should the Homes for Ukraine scheme be for more refugees?' and 'Is it right that the Prime Minister kept his job after 'partygate'?'
See the latest vote results below with our school's results indexed against the national votes.
Will your generation see the end of LGBTQ+ prejudice?
Vote from 8 June 2022
Has tackling racism in education improved since the protests of 2020?
Vote from 15 June 2022
The past month has been incredibly busy, in terms of extra-curricular events at Warlingham. Years 7 to 9 have been competing in House cricket, rounders, basketball and tug of war. Attendance from Chichester students at all events has been incredible and the house has been very successful. A massive thank you goes out to the sports captains and tutors who have helped organise and support these events.

View More
As the academic year swiftly draws to an end, it felt the right time to let students and parents/carers know that I will be stepping down as Head of House of Johnson at the end of this academic year. Whilst I am not leaving the school and intend on remaining involved from my new role in the Learning Development Department, I am sad to leave this wonderful group of students that I have got to know and work with. I am incredibly proud of how hard they have all worked in incredibly challenging circumstances, but mostly because of the relentless kindness that so many of them demonstrate in everything that they do.
Sharman House would like to congratulate 7G's form Tutor, Mr Tipton on recently getting married. His tutees created a range cards to celebrate their fantastic tutor.